Each month, we post a series of blogs around a common topic. This month, Sarah Dianne Jones is curating a series written by our workshop leaders at the 2017 National Gathering. What excites them about the Gathering? What are they looking forward to sharing and discussing during their workshop? We invite you to join the conversation on Facebook and Twitter!
by Andy Kort
One day I had a realization that maybe I should tinker with my congregation's session meetings. If the church is supposed to be a living, breathing, and vital place, then why should the meeting of her leaders be so boring, dry, and dusty? Why, after a short and often perfunctory prayer, should the meeting of church leadership focus primarily on committee reports, rubber stamps, budgets, and policies, and not things of the Spirit? I'm not saying the Spirit is not alive and at work in these things, but sometimes it is not so obvious. Since the elders are spiritual leaders of the church, perhaps we should be living into that calling more than we already are. Our problem was that we were acting a lot like a corporate board room.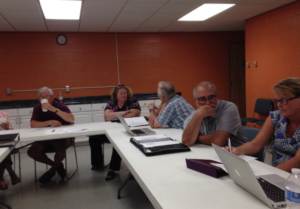 I know that in my own life I was feeling dry and parched. I was thirsty and needed to go deeper in my spiritual life and drink from the well in order to find refreshment — not to mention joy, hope, and a reminder why I went to seminary in the first place.
Thankfully, as a part of my continuing education, I enrolled in a class titled "Theology of Church and Ministry." My final project was to design a "rule" for my personal spiritual use. However, following the rule and sticking to it were far more challenging than I had originally thought. In some areas I flourished, while in other areas I floundered and became frustrated. Nevertheless, the rule helped me come to grips with a hard truth: I was struggling in my own spiritual life. And I am an ordained minister. The transition from worshiper in the pew to preacher in the pulpit does not necessarily lend itself to an abundance of spiritual practices or being able to, as Thomas a Kempis might suggest, imitate Christ. At least that has been my experience.
Like many other clergy I know, I have felt my own life of faith is often neglected to my own detriment. Therefore, I had been seeking a more balanced way to structure, or order, my life to allow me to grow and increase my spiritual life. In other words, I had been searching for a way to increase, or at the very least solidify, my "holy living." A rule seemed the perfect opportunity to help me in this struggle.
As I engaged in my rule for the class project, I had another thought: as a minister, if I needed help in this regard, what about the leaders of the church? Could a rule not only help their own spiritual lives, but could it also shape the work and ministry of a governing board at a local congregation? I thought that it could.
So I instituted a rule for the session. Three years later, it has been transformative and shaped our meetings, and our life together, in ways that I did not anticipate. I am really looking forward to sharing more about this with you in Kansas City!
A Rule for Church Leaders is being offered during workshop block 2 on Tuesday of the National Gathering. 
---

Andy Kort is the senior pastor at the First Presbyterian Church in Bloomington, Indiana. He developed a rule for his session a few years ago. He contributed a chapter about this experience in the book, "Sacred Habits: The Rise of the Creative Clergy."
https://media.mywtenfold1.com/wp-content/uploads/sites/10/2016/12/29174852/featured-kort-session.jpg
200
398
Linda Kurtz
/wp-content/uploads/sites/10/2016/01/NEXT-Logo-FINAL-Horizontal_lato-1030x229.png
Linda Kurtz
2016-12-06 09:07:54
2016-12-07 11:27:54
A Rule for Church Leaders