by MaryAnn McKibben Dana
Last fall, after much cajoling from my children, we spent an afternoon at Cox Farms for their fall festival, a beloved institution here in Northern Virginia. I say "cajole," because after many annual pilgrimages when my children were younger, I was ready for some new autumn traditions for our teen and tweens. But they are adamant about going. For them, it's a connection to childhood and a pleasant place to be together as a family. (I suspect the giant cylindrical bags of fresh crisp kettle corn can't hurt.)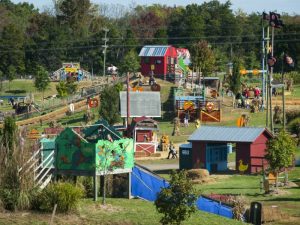 Thanks in part to my connection with NEXT Church and our emphasis on inclusion and diversity, I like to look around the places I go to see how racially and culturally diverse they are. Who is here? Who is conspicuously not here, and why might that be? That day last October, I noticed way more people of color at Cox Farms than I ever had before. I couldn't be sure whether the demographics of the clientele had actually changed, or whether I was seeing with new eyes groups of people who were always there… but the difference was striking.
It was only later that I found out about Cox Farms's tradition of feisty signage. It began many years ago with two rainbow flags flying over the hay-bale tunnel. Then, a Black Lives Matter sign in the window of the family home, followed some time later with a message on their marquee expressing love for their immigrant neighbors. Again, I'm not privy to Cox Farms's statistics on clientele. But it stands to reason that in a culture in which whiteness is considered the default, historically marginalized populations won't simply assume they are welcome somewhere unless they are explicitly welcomed. I couldn't help but think of the church: what topics we take up together, what remains unspoken, and how we express our welcome. If we're not specific and heartfelt in our language, if we rely on generic words like "all" and "everyone," our message will not get through. It's too easy for "everyone" to be followed by an implicit "…who looks like me," especially when the community and its leadership are homogenous already.
This month's focus for the NEXT Church blog will be on the Sarasota Statement, which we unveiled a year ago and continue to promote for use in our congregations and communities, along with the accompanying study guide. You will hear from a variety of voices and contexts throughout March, reacting to phrases in the statement, and sharing ways it is being used.
There are many themes woven into the statement — the nature of Christ's kindom; the need for the church to be a vehicle of change — but a major theme is our call to dismantle forces of oppression, notably systemic racism. And guess what? Cox Farms took on that one too, with a sign a couple of months ago that said "Resist White Supremacy." It didn't take long for some folks to respond with angry letters and calls for a boycott. Thankfully, the overwhelming majority of comments and messages on the business's Facebook page were positive (and I vowed never again to push back on my kids' nostalgic desire for hayrides and fresh-pressed apple cider).
The Cox family was baffled by the negative response. As an article in the Washington Post put it, "Who, other than a white supremacist, would be offended by a message condemning white supremacy? [The family] also understood, though, that this is America in 2018, a time of such fierce division that even voicing opposition to the ugliest beliefs could be twisted or taken out of context."
I am not so coy as to pretend there isn't political resonance in words like "Black Lives Matter," "resist," and "white supremacy." That doesn't mean that the church should avoid them, but should lean into them even more. The church is a unique institution, ideally suited to talk about these matters in a deeper way, in communities that pledge to be with and for another not because we agree, but because we are united in Jesus Christ. If tough topics make us recoil, it's probably because we're feeling implicated, and that's never a comfortable feeling. But our bristling may also be a sign that we haven't talked about them enough. We need to push into that discomfort; otherwise we will never change and grow. The Sarasota Statement provides language — and the study guide, a framework — that allows for such faithful proclamation and exploration. Onward.
---

MaryAnn McKibben Dana is a writer, free-range pastor, speaker, and leadership coach living in Virginia. She is author of the forthcoming God, Improv, and the Art of Living, and 2012's Sabbath in the Suburbs. She is a former chair of NEXT Church's strategy team, and was recognized by the Presbyterian Writers Guild with the 2015-2016 David Steele Distinguished Writer Award.
https://media.mywtenfold1.com/wp-content/uploads/sites/10/2018/03/29173837/featured-cox-sign.jpg
200
398
Linda Kurtz
/wp-content/uploads/sites/10/2016/01/NEXT-Logo-FINAL-Horizontal_lato-1030x229.png
Linda Kurtz
2018-03-06 08:37:58
2018-03-06 08:37:58
Road Signs and Tough Topics