Each month we ask a different person from the NEXT Church community to assemble a series of posts around a particular theme. This month, Carol Steele is curating a conversation around camp and conference ministry for the NEXT Church. Have ideas or reflections to share? Offer your thoughts in comments, on our Facebook page, or contact us here.
By Joel Winchip
What is next for Presbyterian camp and conference ministry? That is a good question.
Let's start with the facts. The Presbyterian Panel survey tells us ag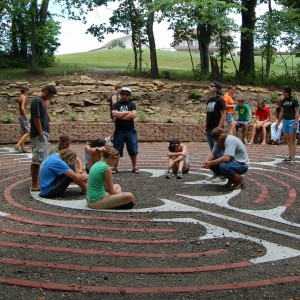 ain and again that this educational model still has an incredible impact on our children, youth, and adults. So how does this 100+ year-old classic still change lives today? Perhaps it is the experiential learning, the community that is built by the participants, the alternative forms of worship, and/or people just wanting to get away from the outside world (even if some still have a smartphone in their pocket). These never get old, and may even gain value as our culture shifts.
While some elements endure, a rapidly changing church also challenges our camps and conference centers to adapt. Many of us hold fast to the significant faith-building experiences we had at these sites – so will we let them change?
Our camps and conference centers are learning to think outside of the box – or specifically outside of the camp. More and more sites are offering programs like satellite day camps. Outdoor ministries are partnering with congregations to provide day camp or VBS experiences on church property. Some camps and conference centers are teaming up with churches by offering mission work camp experiences. Our sites have lodging, food service, and connections with the local community. Congregations don't have to leave this country in order to help people in need – they can do that at a Presbyterian camp or conference center.
As you know, the funding model for our denomination is changing. Ministries like our camps and conference centers can no longer be adequately supported by the governing bodies that created them (many children's homes, seminaries, and retirement communities are in the same "boat"). How can the NEXT church help camps and conference centers navigate these changes? Churches can support their camp and conference centers by attending programs, partnering with the site in new programs, putting this ministry in the church budget, and by understanding that the site's fees will need to go up as governing body subsidies disappear.
So how can the NEXT church better utilize camps and conference centers? Sometimes when a church is in a financial or staffing crunch, they stop offering a congregational retreat. Yet there are other ways to bring together your members to build community or to offer a faith-building experience away from the outside world. Whether it is for a weekend or just for the day, getting your members out of the church is so important.  If your local camp or conference center is too rustic for your needs, support them in their efforts to upgrade their facilities. While you are helping make that happen, use a website like www.bookaretreat.com to find other Presbyterian sites that might better suit the comfort level of your congregation.
As our presbyteries change drastically, what will hold these regions of churches together? Perhaps it will be the significant ministries they built cooperatively over the years. Your camp or conference center has an important history. If it is like most, its ministry has gone through times of drought and abundance. Is it worth keeping? Our camps and conference centers have the capacity to serve the needs of the changing church. This 100+ year-old educational model is still effective because it takes people away so they might focus on what is important. The Presbyterian Panel survey tells us that these experiences are formative in individuals' faith journeys.  We should also keep in mind that this is not a ministry for Presbyterians only – it has a significant outreach to other denominations and to those who don't go to church.
Now is the time for the church to better utilize our camps and conference centers. We need to keep in mind that the funding model for Presbyterian ministries has changed. Our congregations do not need to support all of the Presbyterian camps and conference centers…we just need to support the ones we want to keep.
---

Joel Winchip is the Executive Director of the Presbyterian Church Camp and Conference Association, which serves the outdoor ministries of the Presbyterian Church (USA) and The Presbyterian Church in Canada. He is also on the adjunct faculty of Columbia Theological Seminary (Decatur, GA), where he teaches their camp and conference course.
https://media.myworshiptimes31.com/wp-content/uploads/sites/55/2014/03/29180427/Heartland.jpg
1317
1317
maryann
/wp-content/uploads/sites/55/2016/01/NEXT-Logo-FINAL-Horizontal_lato-1030x229.png
maryann
2014-03-18 15:43:09
2016-05-12 22:06:00
The Road to 'NEXT Camp'