Each month, we post a series of blogs around a common topic. This month, Steve Lindsley is curating reflections on a physical faith. How does one practice a physical faith – inside or outside of the church? In what ways can we experience God through our bodies and our communities? And how does movement, of many forms, bind us to a deeper sense of spirituality? We invite you to join the conversation on Facebook and Twitter!
by Henry Brinton
Open the Sunday worship bulletin at Fairfax Presbyterian Church, and you'll see prayers, scripture readings, and hymns — activities that have long been standard exercises in an active spiritual life. You'll also find an invitation to have your blood pressure checked after worship, and announcements about church members participating in marathons, triathlons, and 100-mile Century bike rides.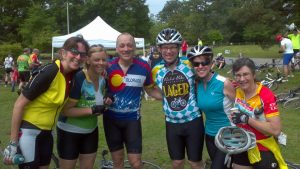 This focus on physical fitness might seem odd in an institution devoted to the health of the spirit, but it represents a growing trend in American houses of worship. Congregations are now reclaiming the ancient biblical truth that human beings are created with a unity of flesh and spirit, not with an antagonism between the physical and the spiritual popularized by dualistic Greek philosophy. After thousands of years of separation, body and spirit are coming back together.
Many Americans are seeking this connection through diet and exercise. "In thinking of body, mind, and spirit, I feel that it is important to stimulate each, and keep the three aspects well balanced," says Thomas Larsen, an aerospace engineer and member of Fairfax Presbyterian. "I should take good care of my body, which I believe is God's temple."
Ten years ago, Thomas joined a group of 40 church members in monthly meetings that I led along with Vik Khanna, an exercise specialist certified by the American College of Sports Medicine. Called "Ten Commandments of Faith and Fitness," this program encouraged endurance exercise, strength training, and good nutrition in an effort to improve participants' spiritual and physical fitness. It seemed to work — one woman thanked us for helping her to complete her first 100-mile bicycle race.
Across the country, congregations are adding full-service fitness facilities to their buildings. Fellowship Church, in a suburb of Dallas, provides basketball cages, a rock climbing wall, and a walking trail around a lake. Its ministry includes a variety of sports clubs and team competitions, and even offers a fitness "boot camp." On the grounds of New Birth Missionary Baptist Church in Lithonia, Georgia, is "Samson's Health and Fitness Center" — a facility offering athletic leagues and massage therapy. Its motto: "Total Health, Total Person."
Clearly, religious institutions have caught the fitness bug. But what does this focus on physical health have to do with spiritual vitality? As a Presbyterian pastor, I spend a lot of time studying the New Testament, and I can't help but notice that Jesus sees the body as a good gift of God — he rejoices in the pleasures of touch and taste and other bodily sensations. Jesus comes on the scene in the Gospel of Mark as a man of action: curing the sick, casting out demons, cleansing a leper, and healing a paralytic — clearly, he cares deeply about the health of human bodies.
Throughout the gospels, Jesus focuses his efforts on saving people from illness, destruction and death, and then at the very end of his ministry he gives the gift of his own body, saying, "Take, eat; this is my body" (Matthew 26:26). He doesn't say this is my mind, or this is my spirit — he says, this is my body. From the very beginning, Christianity has taken seriously the fact that God came to earth in a human body — "the Word became flesh and lived among us," says the Gospel of John (1:14). This tells me that there is something good and important about our human flesh.
Because Christian spirituality involves both spirit and body, worship on the Sabbath and work-outs throughout the week are critical elements in a life of health and spiritual growth. For me, a core conviction is that God has given each of us the gift of a body, and wants us to take good care of this gift. That's why my day off almost always includes swimming, cycling and running — activities that help me to keep body and spirit together.
---

Henry Brinton is Senior Pastor at Fairfax Presbyterian Church in Fairfax, VA.  Henry writes freelance articles on religious topics for the The Washington Post and USA Today, and has been a writer for the preaching journal Homiletics since 1998.
https://media.myworshiptimes31.com/wp-content/uploads/sites/55/2016/06/29175111/featured-ffx-biking.jpg
200
398
Linda Kurtz
/wp-content/uploads/sites/55/2016/01/NEXT-Logo-FINAL-Horizontal_lato-1030x229.png
Linda Kurtz
2016-06-09 07:31:31
2016-06-13 19:07:51
The Reunion of Body and Spirit