Each month, we post a series of blogs around a common topic. This month, Kate Morrison is curating a series featuring reflections on Advent and Christmas from our 2018 National Gathering workshop and post-Gathering seminar leaders. Over the course of the month, we'll hear what this season means to them through stories, memories, and favorite traditions – and how they see the themes of Advent connecting with the work of NEXT Church. We invite you to share your own memories and stories on Facebook and Twitter!
Editor's note: Justin is co-leading a workshop during the 2018 National Gathering called "Songs for the Journey." It will take place during workshop block 2 on Tuesday. Learn more and register! 
by Justin Ritchie
Love is my favorite theme from the Advent season. Well, that's true this year anyway. For me it seems each year at Advent, hope, joy, peace, or love seem to rise to the surface for different reasons. With everything happening in the world around us, this year I find that my heart is longing for love to return in places it seems to have been forgotten and to be born in hearts that seem to be missing it.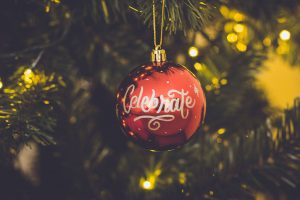 We are creating our own corner of Advent love in our home again this year. My parents are traveling from Augusta, GA, to be with my husband and I and a few of our close friends to celebrate Christmas day. Our tradition since I was a child is to wake up on Christmas morning, eat breakfast, and then read the Christmas story from Luke. We still do that every year. In recent years, I've looked at our little Christmas gathering consisting of my family of birth and our chosen family, different skin tones and widely differing belief systems and faith traditions. We are gay and straight, Yankees and Southerners, conservative and liberal. Each year we find a way to be together on that morning. We listen to the Christmas story. We exchange presents. We eat. We drink. We laugh. We reminisce. We LOVE.
The other night I watched the Pentatonix Christmas special on television. They are one of my favorite groups and their Christmas albums are already on permanent rotation in our home. Near the end of the program and just before they sang a beautiful arrangement of "Imagine," one of the group members talked about how Christmas was the time of year we could put our differences aside and come together. It is a lovely, and true, sentiment. Why do we only expect that to happen during the holidays? I think that this seasonal feeling of goodwill to our fellow humans could be something that we practice all year long. What if we used that "Christmas feeling" as a model for how to interact with the people in our lives every day of the year? How different our world would right now?
I grew up in evangelical circles and we did not celebrate or acknowledge the Advent season. I have come to cherish and deeply appreciate this period of longing and expectation. For me, Christmas and the story of Jesus' birth boil down to this: Divine Love was born in the form of a human baby. Jesus is the incarnation of God's love for all of God's children. This Advent I am indeed longing and anticipating. My heart needs a reminder of Divine Love. Our world needs a reminder of Divine Love. One of my favorite spiritual teachers, Marianne Williamson, puts it this way, "Miracles occur naturally as expressions of love. The real miracle is the love that inspires them. In this sense, everything that comes from love is a miracle."
May your heart be filled with love and miracles this Advent and in the year to come.
---

Justin Ritchie is the music director at Oaklands Presbyterian Church in Laurel, MD – a multi-cultural More Light Presbyterian Church. By day he is a contractor for the federal government as a web developer. He lives with his husband Jason, Phoebe the French Bulldog, and Bruce the Pug just outside D.C. In addition to his ministry at Oaklands, Justin is the band director at Temple Rodef Shalom in Fairfax, VA. He is also an active cabaret performer in Washington, DC and New York and was recently seen in productions of "The Secret Garden" and "The Full Monty" in Annapolis, MD.
https://media.mywtenfold1.com/wp-content/uploads/sites/10/2017/12/29174013/featured-celebrate-ornament.jpg
200
398
Linda Kurtz
/wp-content/uploads/sites/10/2016/01/NEXT-Logo-FINAL-Horizontal_lato-1030x229.png
Linda Kurtz
2017-12-26 07:19:46
2017-12-24 14:38:52
A Reminder of Divine Love