by Rafael Vallejo, Ph.D.
"We are here because you destroy our countries!"
– Caravan for Rights of Refugees and Migrants, Germany 2007
James Scott proposed the idea of "everyday resistance" in his book Weapons of the Weak (1985). He used the term to refer to subtle, informal acts of personal and collective resistance, that is different from large-scale, formal organized efforts. Since then, there has been an abundance of scholarship devoted to conceptualizing resistance and creating typologies for it. Most of the definitions suggest that resistance is relational, as well as oppositional. It is carried out in relation to power (Hollander and Einwohner, 2004).
In previous blogs, I have argued that relations of power are inscribed in the liminal spaces where refugees live. Bhabha (1994) refers to these liminal spaces of uncertainty and ambiguity as a "third space" created and populated by the marginalized. (Note: This also describes the USA as I am writing this piece in November 2020.)
In today's blog we explore how refugees enact everyday resistance in these spaces. I have put together two narratives from the struggle of the Palestinians in the Occupied Territories, and the Saharawis of Western Sahara.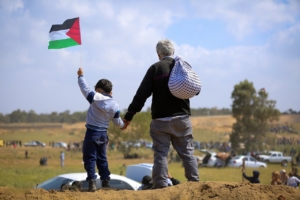 Palestinian refugees and Sumud
The Nakba is how Palestinians describe the great catastrophe of 1948 when the State of Israel was created. This event in their history led to the displacement and creation of Palestinian refugees. Today in the occupied territories and refugee camps in Lebanon, sumud is the word that symbolizes their everyday resistance. The word has been translated into English as steadfastness, resolve, and persistence. To live as a refugee, to assert that one is Palestinian, to endure and sacrifice against all odds is sumud. Refugees singing, dancing and displaying cultural / religious symbols (flag, maps, posters, graffiti) are expressions of sumud.
It is through these acts that Palestinian refugees assert their agency as political actors resisting the stereotype that they are just bodies to be fed and sheltered. Staying alive, remaining in camp, having many children, expressing through one's actions that refugees are not beings without agency and that life must go on no matter what, are all expressions of sumud. Like the olive trees that grace their landscape, sumud is deeply rooted in the Palestinian struggle against the occupation of their land.
The Saharawis and Frente Polisario
Another example of everyday resistance can be found among Saharawi refugees . After the 1975 occupation of their land by Morocco, the Saharawis fled and set up camps in neighboring Algeria. Morocco annexed their land at the end of the Spanish colonial rule in 1976. The international Court of Justice has ruled that Morocco has no legal rights over Western Sahara but the occupation continues up to the present day.
In spite of the harsh desert environment where the camps are located, the Saharawi have managed to create their own social organizations, schools and hospitals. Women in particular have had a significant role in administration, education and healthcare since most of the men serve in the army with Frente Polisario the national liberation movement that continues the struggle to end Moroccan occupation of Western Sahara.
Even with very limited resources the Saharawi have created basic forms of governance, schools, clinics and a justice system with sharia judges. The camps are run by the refugees themselves with little interference from the state. Among the achievements in the last 30 years is literacy that has grown from 5% in the early days to about 90% at the present time. Many of their people can now read and write, and others have gone on to study in universities in Algeria and Cuba.
The resistance continues to this day with Africans and African countries standing in solidarity with the Saharawis and the Saharawi Arab Democratic Republic (SADR) who frame their struggle not just as the liberation of Western Sahara but the liberation of Africa.
---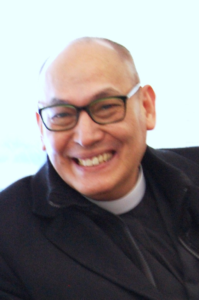 Rafael Vallejo started his theological career at the Graduate Theological Union in Berkeley and San Francisco Theological Seminary and from there continued on with a Master in Theological Studies from the University of Waterloo and a Master of Divinity at the University of Toronto. From 2011-2016, he travelled extensively and studied with indigenous communities in Peru, Brazil, Mexico and Argentina as part of his PhD dissertation (2018) on "Faith Perspectives of Mexican Migrant Farm Workers in Canada". He serves as affiliate faculty at the Ansari Institute for Global Engagement with Religion at the University of Notre Dame.
Rafael is also part of the NEXT Church blogging cohort and his pieces focus on the experience of refugees and mission. 
https://media.mywtenfold1.com/wp-content/uploads/sites/10/2020/11/19143057/gaza-3829403_1280-e1608490678459.jpg
533
800
Linda Kurtz
/wp-content/uploads/sites/10/2016/01/NEXT-Logo-FINAL-Horizontal_lato-1030x229.png
Linda Kurtz
2020-11-24 07:19:19
2020-11-19 14:32:09
Refugees and the Practice of Everyday Resistance