Each month, we post a series of blogs around a common topic. This month, Suzanne Davis is curating a series highlighting the working relationship between ruling elders and ministers of the Word and Sacrament (or teaching elders). We'll hear from both individuals and ruling elder/pastor partners reflect on the journey in ministry they've had together. How do these two roles – both essential to our polity – share in the work and wonder of the church? What is the "special sauce" that makes this special partnership flourish? We invite you to join the conversation on Facebook and Twitter!
by Marsha Somers McElroy
When we ask how we grow working relationships to meet the needs of a ministry, we have only to look to the text in Ephesians 4:11-16. There are many gifts and God calls us to many types of ministry. We often forget that no gift is more important than the other. Do we really think the pastor is the only one who can amplify scripture reading, the only one who can pray (or ask a blessing!), the only one who can comfort and support grieving families? If we believe in the priesthood of believers then, of course, those statements are untrue. However, I have heard on many occasions an elder say, "I'm just an elder." Is that said to abdicate responsibility or because one really feels inferior? Healthy working relationships will first need to break through this wall. There are many gifts and those gifts are to be used to serve our Lord.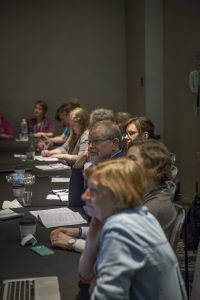 Part of breaking the wall is learning about the gifts of others. Within the last several years I was recruited to chair a committee to discuss ways we might use our church plant during the week to serve a community need. As a social worker working with older adults, I had interests and skills related to this area of need in the community. So I was keen to be a part of this discussion. The pastor recruited others with similar interests and some with skills and interests around the needs of children. Our discussions were lively and all over the map till we began to narrow our focus. We now have a bilingual preschool meeting in one of our buildings that is used only a little during the week. We learned a lot in the process and continue to rejoice at the work God is doing. Using our gifts as the Spirit worked among us!
Many years ago I was in a civic club and served as an officer. The first time we gathered to make plans for our group the president's first question was "What do I need to know about you so that we can work together well?" I thought that question was brilliant. I remember that as a fun and rewarding year. That leader respected us enough to want to know our perspective and that engendered our respect for her and for one another. Along with respect was trust that we would work together for the health of our group. This experience is nothing different than being on a local governing body.
Volunteers and staff have other essential roles to fill. What is it like to walk in the shoes of staff: There are many bosses, right?! Members of the congregation who are quick to point out flaws and eager to triangulate staff to "solve" issues… Staff regularly sees persons who are sick, angry, dying, and grieving and persons with lots of questions. The sadness must be overwhelming at times. Church officers have similar experiences but with less intensity and frequency. Here is the opportunity for mutual support. Who doesn't relish empathy in the midst of turmoil or deep sadness? Who doesn't need to be encouraged to carry on or to be reminded that God is with even when things are messy?
Along with support and empathy, working relationships are made much stronger with expressions of appreciation. The simple "Thank you" is very powerful. Finding ways for expressing simple gratitude is necessary and can be a powerful support. And, of course, this is mutual – staff to volunteer; volunteer to staff.
The actions are simple really – listening, learning about one another, showing gratitude, recognizing and using gifts, respecting, supporting, encouraging. There is time involved and a certain amount of intentionality. But strong working relationships are faithful and essential to the health of a congregation.
---

Marsha Somers McElroy is a ruling elder at Hopewell Presbyterian Church in Charlotte, NC. Marsha received her BA from Queens College and MSW at UNC Chapel Hill. She has served as director of Christian education, serving churches in North Carolina for 21 years. She also served as a social worker with older adults, primarily as a caregiver support specialist. She lives in Long Creek with her husband, Bill, and cat, Max.
https://media.mywtenfold1.com/wp-content/uploads/sites/10/2018/01/29174004/featured-meeting-people.jpg
200
398
Linda Kurtz
/wp-content/uploads/sites/10/2016/01/NEXT-Logo-FINAL-Horizontal_lato-1030x229.png
Linda Kurtz
2018-09-23 18:53:17
2018-09-23 18:53:17
Recognizing We All Have Gifts