Each month, we post a series of blogs around a common topic. This month, Lee Hinson-Hasty is curating a series identifying books that Presbyterian leaders are reading now that inform their ministry and work. Why are these texts relevant today? How might they bring us into God's future? We invite you to join the conversation on Facebook and Twitter!
by Doris Garcia Rivera
In his book La interculturalidad un nuevo paradigma de evangelización, Jit Manuel Castillo offers the view of interculturality as a new paradigm of relationships and evangelization. The strong theoretical support to explain our present postmodern world, plural and multiethnic as the most challenging, yet most beautiful opportunity to rethink our witness as followers of Christ is unparalleled.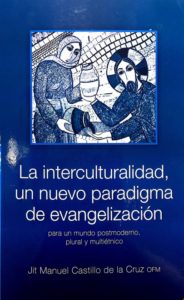 Jit takes us on a voyage to understand our present world with five deep metaphors – the tunnel, a broken, a liquid, and unbridled world, and an era of emptiness. Facing these as obscure realities, fragmented identities, fluid relationships, frontiers and truths, lighting speed processes of knowledge and increased difficulty to feel connected (a deep collective meaningless and depression), the author sets us into the emblematic processes of our time.
Identity processes take a leading argument, for our identities not only define us, but also help us interpret reality. Identities have never been static, but are in process of continuous change. Jit challenges us to see the new subjectivities (that many fear) as ways of being human, with flexible contours, embodied within flesh and cultures – just as my own identity is also embodied. It is interesting to see how these processes of creation and affirmation of new identities at the same time also affirm closed, inflexible, and exclusive fundamentalist and extremist identities.
One of the things that most struck me was his affirmation of the postmodern industrial society of "being seen" as opposed to "to be or to have" as the new understanding of existence. If we are not seen in social media, we don't exist. If that is not seen, it didn't happen. The change to a technologically dominated society, where the question is not why, but for what?, summarized many of my own observations of society. Utility is the horizon of technology and the techno-scientific project is to transform our human condition, to produce new subjects based on states, globalization, neoliberalism, capital, and pharmaceutical industries' alliances. The author gives strong arguments to the proposal that new bodies and souls are being created – a digital post-organic and post-biological human being, devoid of holistic, universal, and contextual understanding of themselves.
Interculturality is a vital paradigm where we can face the manipulation of our identities by these somewhat abstract powers or by either more closer politicians or religious leaders. Interculturality is defined as a posture, a disposition to share our lives with the other – a space where all cultures are required to truly read and interpret the world in a more comprehensive way, is challenging. It is more than just eating a different food, or sharing a physical space with a different one. It takes place when a group begins to understand the meaning that things have for others. And it will be all the more profound where more significant aspects are shared – is the degree of shared life. Every time we lose the opportunity to connect with those who are different from us – we lose the opportunity to grow as human beings.
The reading reviewed Bosch's missionary paradigms that I often use in my classes and applied these to intercultural evangelism as the new paradigm for the church. It opened many questions for me. What this means for our mission and evangelizing efforts? If interculturality is required to read and interpret the world – it is also required to interpret God in action in our midst. Becoming truly intercultural is to empty us, to reduce our own discriminating boundaries to make space for "otherness." In this we follow Christ who emptied himself to take the form of a servant – as "other" – a human being. Becoming intercultural is a way of becoming incarnated, to truly reach out in love.
As a teacher and president of a seminary I also asked myself; what about theological education, how can I make it more intercultural? What about our teaching processes? What are our cultural presuppositions of intelligence, of learning?  How much are we still ingrained with a religious or theological superiority? How does God see that? How can we empty ourselves as Christians, as denomination to make space for others who yearn to be part of the body of Christ within our midst?
Overall, this is a reading for the strong heart who wants to be challenged to become more like Christ!
---

Doris Garcia Rivera is president of the Evangelical Seminary of Puerto Rico, the only Hispanic speaking, evangelical, protestant and ecumenical seminary born from several protestant denominations and the Presbyterian Church's commitment to train the leadership for the church almost 100 years ago. Her vocation as a teacher and her call and work as missionary in theological education and development for 23 years shaped her to develop ministries to reach out to others, to make connections, to create spaces for personal, community and spiritual growth. 
https://media.myworshiptimes31.com/wp-content/uploads/sites/55/2017/03/29174529/featured-castillo-book.jpg
200
398
Linda Kurtz
/wp-content/uploads/sites/55/2016/01/NEXT-Logo-FINAL-Horizontal_lato-1030x229.png
Linda Kurtz
2017-03-22 07:37:07
2017-03-22 13:56:47
Reaching Out with the Gospel in Intercultural Mode