Each month, we post a series of blogs around a common topic. This month, Lee Hinson-Hasty is curating a series identifying books that Presbyterian leaders are reading now that inform their ministry and work. Why are these texts relevant today? How might they bring us into God's future? We invite you to join the conversation on Facebook and Twitter!
by Teri McDowell Ott
James Baldwin was not a theologian. He, in fact, left the church after a friend helped him realize he was only going because he was too afraid to leave. The church shaped him, though. His father was a preacher whose unsuccessful ministry took his family from church to church where he would show off young James' singing voice. For me, Baldwin's essays, particularly those in Notes of a Native Son, reside in the realm of prophetic theology because of the extraordinary way they describe and illuminate the African-American experience and call to account those of us who live in privileged ignorance.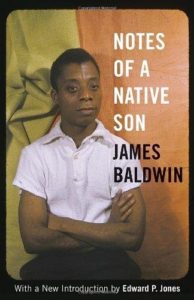 In the "Autobiographical Notes" at the beginning of Notes of a Native Son, Baldwin shares what could be read as his personal mission statement: "I consider that I have many responsibilities, but none greater than this: to last, as Hemingway says, and get my work done. I want to be an honest man and a good writer."
Baldwin himself, who began writing essays and novels in the 1950's, perhaps never imagined the lasting mark he would leave. But today he is constantly quoted when race relations boil over and a relevant voice is needed. One reason why Baldwin's words have been so influential is because of his honesty and his "enormous humanity." He is fair and just, giving advice to other writers that "you do not have to fully humanize your black characters by dehumanizing the white ones."
In this fair, honest approach, Baldwin is able to articulate and describe the human experience in a way that you, as a reader, know to be true, but could never articulate for yourself. In his introduction to Notes, Edward P. Jones describes reading Baldwin as wonderful: "We read [him] and come across passages that are so arresting we become breathless and have to raise our eyes from the page to keep from being spirited away." This was my experience of reading Baldwin and why I recommend him so highly. He will take you places. He will take you to places of honest self and social examination, to places of epiphany and insight and crucial connection. Reading Baldwin is simply divine—and necessary for those seeking to be faithful.
---

Teri McDowell Ott is a Presbyterian pastor who currently serves Monmouth College (IL) as chaplain. After serving in parish ministry for 13 years, Teri now feels called to the liminal space between the sacred and the secular, the church and the 'nones,' the traditional and the contemporary. Teri feels called to build bridges between these spaces, especially through her writing and blogging. She has written essays for Hippocampus, Mamalode and The Christian Century and she blogs at www.terimcdowellott.com. Teri, her husband, Dan, their two tow-headed children and their skittish German Shepherd live in the middle of a corn field in Western Illinois.
https://media.mywtenfold1.com/wp-content/uploads/sites/10/2017/03/29174631/featured-native-son.jpg
200
398
Linda Kurtz
/wp-content/uploads/sites/10/2016/01/NEXT-Logo-FINAL-Horizontal_lato-1030x229.png
Linda Kurtz
2017-03-06 13:11:40
2017-03-29 10:34:11
Prophetic Theology From a Non-Theologian