CONVERSATIONAL LEADERSHIP: LEADING WITH ROBUST VULNERABILITY
ABOUT THE COACHING COHORT
William C. Placher's "Narratives of a Vulnerable God" is one of those books that challenge the readers simply with its title. How can the word "vulnerable" be used in the same breath that holds God's name? God is almighty and powerful, anything but vulnerable, right? Similarly, how can leaders that interpret and speak the Word of God, be vulnerable leaders? Yet, we know that as leaders, we have a responsibility to live out our faith authentically. And we cannot avoid being vulnerable when we live out our faith authentically, because being vulnerable is a part of our essential identity as created beings. Being vulnerable or practicing vulnerability as a leader is not the same as being inappropriately burdening others with your unprocessed and unpacked emotional baggage. Being vulnerable as a leader means being honest and sharing your own experience that will help others to ask the appropriate questions for the true answers they are seeking in their own spiritual journey. In this Cohort, we will explore how to lead with "Robust Vulnerability" through cultivating conversations that are really worthwhile and meaningful.
Participants will learn alongside a cohort of peers, receive both group and individual coaching from trained coaches.
Each session will include 90 minutes of small group coaching. Additionally, every participant will receive 5 individual coaching sessions in between sessions to further deepen their work.
Spaces are limited to keep the cohort experience small.
The cohort will meet on Thursdays from 12:00-1:30pm EST (9:00-10:30am PST) on October 7, October 28, November 11, December 2, January 13, and January 27.
Registration closes on October 1, or when the cohort fills. 
This cohort is no longer available for registration.
Session 1
Session 1: What is Antiracism?
Objective: Create a shared frame and shared language with the cohort as a way of building a foundation for conversation.
Ken Hood
Coach
NEXT Church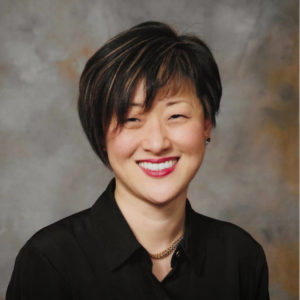 Yena Hwang
Coach
NEXT Church
LEARN MORE ABOUT THE LEADERS
Ken Hood
Ken Hood has served Tualatin Presbyterian Church just outside of Portland, OR for the last sixteen years. Ken earned his M.Div from Princeton Theological Seminary and his D.Min in the augural (read: Guinea pig cohort) at Duke Divinity School in 2014. Ken has stayed connected with Duke serving as the spiritual mentor for three doctoral cohorts and precepting classes on Introduction to Leadership and Integration.
After Duke, Ken studied design thinking at Stanford earning a certificate in Strategic Planning and Risk Analysis, and he spent a year learning Conversational Leadership with poet and philosopher David Whyte. Most recently Ken graduated from The Hudson Institute of Coaching in Santa Barbara, CA, earned his Associated Certified Coach credential through the International Coaching Federation and works with clients in disciplines as varied as medicine, law, as well as the church.
pronouns: he/him
Yena Hwang
Yena's life goal is to live somewhere by the ocean, where she can breathe and bathe in the saltiness of the ocean, surrounded by friends and good food. Her superpowers are truthtelling and living authentically in the moment. Her life's goal is to LIVE authentically (Love. Intention. Vulnerability. Empathy.). Her passions include: fostering justice, bringing order out of chaos, finding/creating beauty outside of order, and nurturing holistic health.
Yena Kathryn Hwang is an ordained pastor in the Presbyterian Church (U.S.A.). She earned her M.Div. (1997) from Princeton Theological Seminary and M.A. in Marriage and Family Therapy (2006) from Louisville Theological Seminary. She received her coach training through the International Coach Federation. She currently serves as Associate Pastor of Fairfax Presbyterian Church in Virginia. She and her spouse have two grown sons and two dogs – soon to be three dogs!
pronouns: she/her
NEXT Church is committed to making resources accessible to everyone, regardless of church or personal budgets.
To inquire about scholarships or for other coaching cohort questions, contact Jen James.