by Tom Are
Adapted from the 2012 Currie Lectures, given at Austin Theological Seminary.
For 19 years I preached the lectionary. I loved it. I couldn't imagine preaching in any other way. But I have changed my mind. I am among the growing number of preachers who find the most important approach to proclamation of the word for the salvation of humankind to be preaching series. I doubt I will ever return to the lectionary. My congregation just listens differently to series.
In my lectionary days I sat with the text, studied the text, prayed over the text until a word would come. Then I would turn and look at the people and search for the point of connection.
But, what happens if that process is turned around?  The people come to the sanctuary with questions and confessions, with hopes and with their own stories of faith to tell. What happens if the preacher begins by paying attention to the people? Begins with the questions and affirmations that are in the pew?  And once a clear engagement of the community is experienced, the preacher then turns to sit with, prayer over and study the text to find a point of connection—a word to speak to the context.
I believe this is how the New Testament has come to us.  Paul's letters are not based on a text for the day, but are shaped by the issues on the ground. Matthew rewrites Mark because Matthew is speaking gospel to a different community.  The entire New Testament is shaped by the questions in the pew.
This is "incarnational preaching." To begin with the people is faithful to a God who chooses to take on flesh and dwell among us.
What might this look like?
Let me give you an example or two from my own context.
I live in Kansas—only six blocks from Missouri.  In 2005 the Kansas Board of Education made a change in public school curriculum.  They determined that in addition to teaching the theory of evolution, public school science curriculum should include instruction in what they called "Intelligent Design."[1]  This time, calling supporters of Darwinian evolution "fundamentalists captured by secular dogma," the Board changed the definition of science, saying it would no longer be limited to searching for "natural causes for phenomena."
Kansas City also boasts the Stowers Institute for Medical Research, one of the places in the nation that does stem cell research.  It has been hotly debated in the state, and the local Catholic Bishop has organized protests declaring the medical research conducted at the Stowers Institute consists of murder.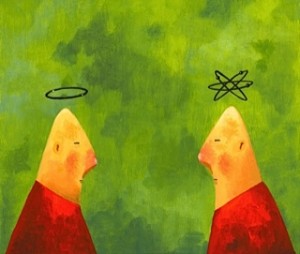 This is my town, so I preached a sermon series exploring the relationship between Christian faith and science. It was entitled "Jesus and Galileo."
We explored Genesis 1 and the claims of Intelligent Design.
I visited with Dr. Bill Neaves, Director of the Stowers Institute, to learn what is involved in "somatic cell nuclear transfer" or stem cell research. The sermon explained the basics of stem cell research and also offered reflections on Psalm 139… you knit me together in my mother's womb.
The series also included a sermon on Climate Change, again providing scientific research, not limited to but including the Intergovernmental Panel on Climate Change and reflection on Genesis 2 where finitude applies to not only the human creature but to all creatures, including the planet.
This is just an illustration of how a series can hold a longer conversation with nuance that the lectionary is less likely to provide.
Another example:
A few years ago I read David Jensen's book, Responsive Labor.  That got me thinking about work.  I preached a series entitled Labor Daze: Church on Sunday, Work on Monday. To prepare I took fifteen members of my congregation to breakfast. Each was engaged in a variety of aspects of business.  I asked them to talk to me about how their faith connects or doesn't connect with their work.  Their comments were very instructive for me in shaping a theological conversation about vocation, call, stewardship and Sabbath rest.
Some of the sermons were "What is your calling?" rooted in Mark 1:16-20 and the calling of the disciples and Exodus 3, the call of Moses.
A sermon about stewardship entitled "trust that you are gifted" proclaimed from 1 Corinthians 12.
The final and fifth sermon in the series was preached from Deuteronomy 5, and entitled "Sabbath: it's a commandment, not a benefit's package."
One last example: Bible Stories from Childhood
I invited the congregation to submit requests of Biblical texts from their childhood on which they would like to hear a sermon.  Here's why. Almost 70% of those who join Village Church do so by Reaffirmation of Faith. They come mostly as ones who do not know our practices, our language, our holy stories. Yet they may bring memories of their childhood church days. You can imagine the stories they would know: Noah and the ark, the Good Samaritan, Daniel and the Lion's den, David and Goliath, the prodigal.
It was exciting to see members hear anew a childhood story that has grown up to become a new word that speaks with power and grace to orient the community?
I have changed my approach to preaching because I believe we must pay attention to our particular context.   It's incarnational. It's Biblical. It's certainly not the only way to preach, but in our day it has much to offer.
Other examples of series:
Joy Even on Your Last Day (a series on the Philippian Letter)
9-11: Things Remembered, Things Forgotten, Lessons Learned (preached the four weeks leading up to the tenth anniversary of 9-11)
Just Can't Say Enough about That Baby (An Advent Series exploring the unique portraits of Jesus found in Matthew, Mark, Luke and John)
Where is God when it Hurts? (a series on theodicy)
Sacred Sound Bites (Words we hear every week in our worship liturgy)
Questions thinking Christians are asking (invited the congregation to submit questions on which they would like a sermon… preached on the most popular requests)
---
[1]  Both times the following election cycle replaced enough of the Creationist/ID supporters that the curriculum returned to traditional scientific standards.
---

Tom Are is the Pastor of Village Presbyterian Church and Co-Chair of NEXT Church.
https://media.mywtenfold1.com/wp-content/uploads/sites/10/2013/01/29175620/shutterstock_37683868.jpg
271
320
Jessica Tate
/wp-content/uploads/sites/10/2016/01/NEXT-Logo-FINAL-Horizontal_lato-1030x229.png
Jessica Tate
2013-01-22 08:36:42
2016-05-03 15:39:30
Preaching Series: A Testimony