Each month, we post a series of blogs around a common topic. This fall we've asked a number of leaders to respond to the question, "What is saving your ministry right now?" We invite you to join the conversation here, on Facebook, or Twitter!
By Andrew Taylor-Troutman
Bringing home a newborn begs for saving grace, especially if you and your partner already have a three-year-old boy sprinting around the house in joyful abandon. Kathleen Norris once wrote that the etymology of salvation is to make a road wide enough to sustain life.[1] I know my spouse and I continue down the path of sanity in large part because of the saints of our church—the gracious bearers of grilled pork tenderloin and hearty fall soups, the open-hearted givers of homemade lasagnas and made from scratch gingerbread and leafy green salads delivered with a few greenbacks and a knowing wink. Three weeks home from the hospital and I have already burned through two boxes of stationary. How many different ways can you say thank you? It's fun to try and find out.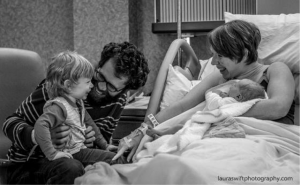 Speaking of discovery, this baby's pull upon our family life is as sure as the tide's ebb and flow though not nearly as predicable. Yet the man in the moon cycles through his phases above, stoic in light of our little world's utter transformation. The church spins on, too, the faces of the saints shadowed by the mean hopes and cheap graces of daily struggles. But I realize that I cannot do the things I once did on behalf of the community. There are not enough hours in the day. Whether you are a pastor or not, you know this to be true.
Perhaps you likewise know the late night relief of the baby finally falling asleep, clutching the collar of your old t-shirt like a tiny koala bear. You don't want to put him down too soon and risk those eyes fluttering wide awake. So your mind wanders and wonders, doesn't it? The moonlight streams through the nursery window and countless others, the same light that softly falls on your newborn's slack jaw likewise rests upon the beds of those who have graced your home with their gifts. You remember them in the seeming eternity of this dark night. Remember the anniversary of a death, the eye appointment coming up here at the end of the month; remember the child overseas at war, the grandchild across the country in school. You remember them and theirs and, right after putting the baby down, just before you collapse into bed, you write a brief thinking-of-you-card in chicken scratch hand, a little inky fellow which you manage to slip into the next day's mail.
What, you ask, is saving my ministry? Between balancing and bouncing, fixing and changing, soothing and bathing and Lord knows all else, I can manage a letter—a written record of a moment of prayer, read by someone else's tired eyes. And you know what? It's fun and, perhaps, even opens a little road of a relationship, which if not a definition of salvation, might just lead to a healthy ministry.
[1] Kathleen Norris, Amazing Grace: A Vocabulary of Faith. I cannot recommend this book highly enough. I cite her often in sermons.
---

Andrew Taylor-Troutman is the teaching elder of New Dublin Presbyterian Church. You can learn about his novel, Earning Innocence, on the publisher's website or his blog.
https://media.myworshiptimes31.com/wp-content/uploads/sites/55/2015/11/29175754/Andrew-Taylor-Troutman1.png
721
1167
Linda Kurtz
/wp-content/uploads/sites/55/2016/01/NEXT-Logo-FINAL-Horizontal_lato-1030x229.png
Linda Kurtz
2015-11-23 10:44:08
2016-09-02 08:47:32
Praying Through Letters