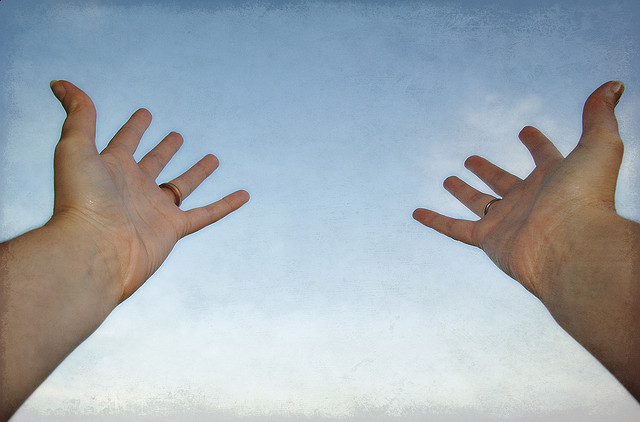 By Jim Lunde
"If there's one thing I've learned about our church over the years, it's that we're a praying congregation." These were the words shared with me by a church member during my first hospital visit in my new congregation this summer. At first I thought it was a sweet statement to make about one's church, but (as you're likely thinking) isn't every church a praying congregation? Over the next few months I would plunge past sentimentality and learn the true depth of this statement.
One Sunday school class exchanges prayer cards at the end of each lesson and commits to hold that person in prayer throughout the week. This class also maintains a prayer blanket ministry. The congregation's monthly prayer group compiles a list of prayer concerns and creates a "calendar" for church members to lift specific people and places in their prayer lives throughout the month. One of the most powerful moments I witnessed was a prayer vigil that the congregation held for a member before a complicated surgery. At a moment's notice, forty people came to the church one evening to pray and support this member and his family. I learned that this is a long-standing tradition of this congregation, as they often meet in hospital chapels and in the homes of members before tests, surgeries and procedures.
This practice has even become a community effort. Recently our congregation has joined with four other faith communities in the South Knoxville neighborhood to engage in combined mission efforts. At our monthly meetings, we basically ask one another: How can we be in prayer for your congregation? We gather to support one another in prayer as we discern how God is calling us to serve the South Knoxville community together. In this way, we have become living prayers for one another as well.
As stated earlier, every congregation prays, so what makes this one so different? To me, the difference is that prayer has become a self-defining characteristic of the congregation. It wasn't a pastor-originated effort, but came organically through the needs and circumstances of the community. Over the generations, it has shaped their common life together. To become part of this congregation means that you are committing to praying for the community and, perhaps even more difficult for some, you are willing to be prayed for.
Whatever size your church might be, I believe herein lies something that can be transformative for any faith community. Having recently served in a large congregation, I realize that such practices would look much different in their context, but there are some common threads which could nourish any community. I think the biggest one is that prayer is not a program, it's a ministry. It's not something you can advertise or use as a hope to "draw" in new members, but when a praying ministry becomes part of your missional identity, the result is truly transformational. Rather than catchy programs or even charismatic leaders, across different demographics, people are seeking communities who genuinely care about them. Communities where more people than just the pastor promise to pray.
Every congregation prays, but the congregations for whom prayer becomes a defining characteristic can truly be transformational by reflecting Christ's love. Blessings in your ministry of prayer.
---
Jim Lunde is pastor of Graystone Presbyterian Church in Knoxville, TN.
photo credit: Loving Earth via photopin cc
https://media.mywtenfold1.com/wp-content/uploads/sites/10/2013/11/29180537/medium_3039881498.jpg
422
640
maryann
/wp-content/uploads/sites/10/2016/01/NEXT-Logo-FINAL-Horizontal_lato-1030x229.png
maryann
2013-11-12 14:12:26
2016-05-10 21:16:11
We're a Praying Congregation