Each month, we post a series of blogs around a common topic. This month, Jessica Tate and Linda Kurtz are curating a series written by participants in the first-ever Certificate in Community Organizing and Congregational Leadership offered by NEXT Church, Johnson C. Smith Theological Seminary, and Metro Industrial Areas Foundation. You'll hear from clergy, lay people, community leaders, and others reflect on the theology of power and how organizing has impacted the way they do ministry. How might you incorporate these principles of organizing into your own work? What is your reaction to their reflections? We invite you to join the conversation on Facebook and Twitter! 
by Jon Nelson
Reflecting on power in the context of my tradition, I immediately think of Paul's correspondence with the Corinthian church. Paul inverts assumptions about power. He writes, "Christ [is] the power of God." And yet, Christ was crucified. Paul concludes: "God's weakness is stronger than [so called] human strength" and "God chose what is weak in the world to shame the strong" (1 Cor. 1:18-31). This is Paul's proclamation and he manifests it in his preaching, saying that God's power is being revealed in even his weakness, fear, trembling, and faltering words (1 Cor. 2:1-5). Later, Paul writes that the whole ministry of the apostles is apparently weak. Apostles of Christ are of ill repute, hungry and thirsty, poorly clothed, beaten up and homeless, weary, reviled, persecuted, slandered — the rubbish of the world (1 Cor. 4:9-13). Paul is telling the Corinthians that what counts for power in the world is not the power of God. Any discussion of power, if it takes seriously Pauline discourse, must reckon with this inverse.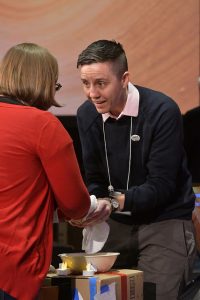 Since the summer of 2017, I have been involved in the organization of an Industrial Areas Foundation (IAF) affiliate in Anne Arundel County, Maryland. Additionally, I have been involved in the Certificate in Community Organizing and Congregational Leadership training put on by NEXT Church, Metro IAF, and Johnson C. Smith Seminary. Through my involvement in these, I have encountered a use of power that at first seems counter to the Pauline presentation. I have been impressed by many stories of people of faith exerting power. As clergy myself, I have been encouraged by the manifestation of power among my colleagues. The stories that stick out are those where a pastor stands up and makes public demands of persons in political power. I have been inspired by people of faith who have stood up to powerful organizations and secured jobs. And I have been amazed by the way faithful people have organized large sums of money in responsible ways.
In an age where pastoral authority seems to be shrinking, I must confess delight in the assertion of will, clear demands and concrete actions by clergy. Community organizing enables people of faith to use power most commonly associated with wealthy institutions and federal government. And still, in the back of my mind, Paul's depiction of inverse power has me wondering if stepping up to corporate and political power in this way is the way in which Christians ought to exert themselves.
However, those who have been in IAF organizations for long periods of time always insist on relational meetings as the basis for every powerful action. This is where I think there is an inverse. Our society places high value on positions of power that are gained by solitary means and are manifested by individuals. I am thinking of business executives and politicians who pride themselves on their own achievements. I am also thinking of the many corporations who are gaining strength by creating isolating job positions. Power, in the North American context at least, is solitary and personally secured.
IAF teaches the inverse. Power is achieved through relationships. Even the achievements wherein million-dollar deals are secured by organizers stand only on the ground of interpersonal relationship — the long slog of getting to know stories and passions, the tender moments where vulnerability leads to collective action. I suppose I am less and less impressed with the deals and public displays of personal and monetary assertion. I am more and more impressed by the many, many relationships that make for change. Here, people of faith are turning upside down and inside out power as it is often esteemed.
This seems evident in Paul's discussion of the apostles. The "rubbish of the world" find strength in relationship. Think of the beaten apostle — the victim of abuse — who meets with the reviled apostle — the victim of systemic abuse. They find a mutual anger in meeting together. They have a mutual interest in disrupting patterns of abuse. United by faith in a crucified Christ, they find that the One who strengthens them is the One who was victimized by personal and systemic abuse. Their power comes from within and without. Power, in this Christian context, is realized as they meet the Crucified Christ in one another and commit to use their resurrection strength and will. The powers that be cannot stand against power that is built from the ground — even the grave — up.
---

Jon Nelson is the associate pastor at Ark and Dove Presbyterian Church in Odenton, MD. He enjoys a rigorous running routine, a good book, his talented wife and hugs from his one-year-old son.
https://media.mywtenfold1.com/wp-content/uploads/sites/10/2018/03/29173728/featured-community-welcome.jpg
200
398
Linda Kurtz
/wp-content/uploads/sites/10/2016/01/NEXT-Logo-FINAL-Horizontal_lato-1030x229.png
Linda Kurtz
2018-04-04 07:45:09
2018-04-05 20:32:23
Power in Relationships