Each month, we post a series of blogs around a common topic. This month, Sarah Dianne Jones is curating a series written by our workshop leaders at the 2017 National Gathering. What excites them about the Gathering? What are they looking forward to sharing and discussing during their workshop? We invite you to join the conversation on Facebook and Twitter!
by Jeff Bryan
What we do is not what they did.
What they did could transform who we are.
For my D.Min. final project, I focused on the history and origins of the Lord's Supper. When it comes to this sacrament, recent scholarship has the potential to upend our theology, our practice, our everything. Frankly, Jesus and his first followers were subversive. The way they worshipped was so normal, and so radical, it threatened the entire Greco-Roman way of life. They took a cultural given — the banquet — and made it a revolution.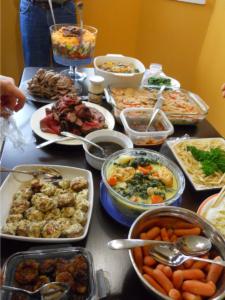 I've had questions about the Lord's Supper for a long time. As a pastor, I've also had plenty of frustration. This recent, historical scholarship has answered my questions, taken away my anxiety, and changed the way I read Scripture. It's opened up possibilities for my own subversive future.
My first call was to a big-steeple church in a Midwestern college town. I was the lowest totem on the pole: campus minister. Each Sunday night, we celebrated the Lord's Supper at a contemplative worship service; and each Sunday night, after worship, we held a free meal for college students. I began the communion liturgy with, "This is the table of our Lord Jesus Christ." However, the "table" was a giant wooden box separated from the congregation, who sat in rows several feet away. When I reached down to break the bread, I said, "When our Lord was at table with his disciples." But I was the only one at the table, with the bread, by myself. When it came time for us to actually be "at table" with one another — at the free meal — we had to walk down a hall and up two flights of stairs to get there.
I've served two churches since, and it's always the same. The sacrament and the meal are divorced. It's a familiar setup, because we've been doing it this way for a very long time. But is this really what Christ intended for the sacrament? Where are the drunkards and prostitutes?
Let's keep asking questions. Who should receive the sacrament? The baptized only? Open table or fenced? Intinction, trays, or something really cool that I don't know about? Who's going to serve on Sunday? Where do they sit? Will the servers even show up? Who's going to buy the bread? And what about the pervasive and insidious individualization of the sacrament? For something so central to the faith, it's an administrative quagmire. It's enough to make a pastor scream.
There is an answer.
Following new research, my workshop, "Potluck Sacrament: Renewing an Ancient, Underused Form of Worship," will look at ancient practice, its implications for the first four centuries, and its possibilities now. We'll explore the Bible with new insight, and we'll look at our ministries in new ways. We'll find relief, and we'll find revolution.
Potluck Sacrament is being offered on Tuesday during workshop block 2 of the 2017 National Gathering. 
---

Jeff Bryan is pastor of Oakland Avenue Pres, Rock Hill, South Carolina. He is a graduate of Princeton Seminary and Philadelphia Lutheran. He has served churches in Ann Arbor, MI, and the Philadelphia suburbs. His D.Min studies focused on worship and sacraments.
https://media.mywtenfold1.com/wp-content/uploads/sites/10/2016/12/29174839/featured-potluck-sacrament.jpg
200
398
Linda Kurtz
/wp-content/uploads/sites/10/2016/01/NEXT-Logo-FINAL-Horizontal_lato-1030x229.png
Linda Kurtz
2016-12-14 07:05:26
2016-12-13 14:19:35
Potluck Sacrament