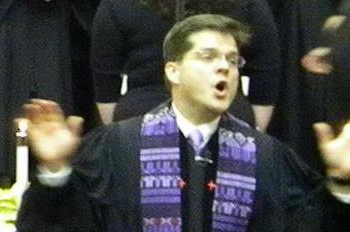 Each month, we post a series of blogs around a common topic. For January and February, MaryAnn McKibben Dana is curating a month of reflections on technology, faith, and church. Join the conversation here or on Facebook. 
By Steve Lindsley
The look on her face was something along the lines of unpleasant surprise. But moreso, disappointment. I was confused. We'd been talking about scheduling a day for me to visit her and the other fine church folk at the retirement home. I'll be right back, let me get my calendar, I had told her. And I'd come back and sat down and plopped my laptop on the table in between the two of us, ready to schedule away.
She looked at my laptop like it was the golden calf. An idol. Maybe that wasn't too far from the truth.
Get that out of my face! she shot back. I thought she was kidding, until I realized that she wasn't. I got a mini-lecture from her about how rude it was to stick "that thing" in between the two of us. A few days later, she would apologize to me for her gruff manner. But I told her that wasn't necessary. Because she was exactly right.
I am a self-professed tech geek. I go very few places without my trusty Macbook. At church, it is subjected to endless hours of checking email, researching and writing sermons and worship liturgy, church social media, and on and on. My right pants pockets all have a noticeable rectangular impression from my cell phone. I've been preaching off an iPad for years.
And I use social media religiously. Pun intended. I use it for church purposes almost as much as personal. In fact, the line between the two are often blurred. We have a church Facebook, Twitter, Instagram; and I'm the primary curator of all three. But even on my personal accounts, I'm almost always posting church stuff. I do this intentionally, because I realize the importance in today's world of the church being visible "in the marketplace;" and that we live in a society that exists as much virtually as it does physically.
I'll be the first one to swear that technology and social media are critical tools that the church should make full use of, and my personal practices certainly subscribe to that ideology.
So why did I begin this blog with a story about an older lady who laid into me for sticking a computer in her face?
Because – and those of you who know me are going to wonder if my blog account has been hacked – we in the church have got to be careful when it comes to technology and social media.
Technology and social media are tools, but that's all they are. Just tools. Tools to a greater end. And the thing is, we have lots of tools in the church. We have buildings, programs, ministries, bulletins, Sunday school curriculum. None of them are the reason we come together. They simply help us do so and point us to that reason – which is to be the body of Christ and help build God's kingdom on earth.
My experience with this dear saint of our church was a pretty blatant example of how technology and social media can get in the way of our mission of body-being and kingdom-building. Literally, a piece of metal and plastic stuck in between two people. I should've known better. But it makes me wonder: in what other ways might we inadvertently drive a wedge in between with our fierce devotion to posting that pic on Instagram, getting that tweet in, updating our church's Facebook page?
The tools of ministry are great, and can be a ton of fun too. But they should never supplant or replace the critical element of human connection, where true ministry takes place. I think of Jesus and the woman at the well. He met her where she was.
The church should strive to be like that in everything we do – and, in so doing, make sure none of the wonderful tools we have at our disposal inadvertently get in the way.
Now pardon me while I go update my Facebook status.
---
Steve Lindsley is a singer-songwriter and pastor of Trinity Presbyterian Church in Charlotte, NC and a member of the NEXT Church Advisory Team. Connect with him at his website. 
https://media.myworshiptimes31.com/wp-content/uploads/sites/55/2015/02/29180108/382095_10151099971367242_977815129_n-e1424361083562.jpg
232
350
marrandamajor
/wp-content/uploads/sites/55/2016/01/NEXT-Logo-FINAL-Horizontal_lato-1030x229.png
marrandamajor
2015-02-19 10:50:07
2016-02-18 12:57:03
Pitfalls of Technology and Social Media