Each month, we post a series of blogs around a common topic. This month, MaryAnn McKibben Dana is curating reflections from our 2016 National Gathering. Watch this space for thoughts from a wide variety of folks, especially around the question, What "stuck"? What ideas, speakers, workshops or worship services are continuing to work on your heart as you envision "the church that is becoming?" We'll be hearing from ruling elders, teaching elders, seminarians, and more. We invite you to join the conversation on Facebook and Twitter!
This post is an expansion of one originally shared on the Union Presbyterian Seminary RSGA blog.
by Rosy Robson
As a self-proclaimed over-programmed, very busy, major to-do-list-keeper, always-behind-on-reading seminary student, I'm often told that I need to start learning how to say "no." Yet I appreciate NEXT Church for giving me permission to say "yes."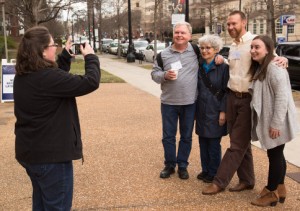 To say "yes" to admitting our fears and lamenting over the parts of the church that we must say goodbye to, and to the parts that bring us pain. To say "yes" to confessing as to where we've gone wrong and to whom we've done wrong. To say "yes" to dreaming about where God is calling us to go and about who God is calling us to be in this crazy century we find ourselves in. To say "yes" to pastoring communities, not just parishes, in ways that are innovative, unique, inclusive and creative. To say "yes" to building meaningful relationships with colleagues and mentors. To say "yes" to daring to be a prophetic witness to God's love for the world.
But now, the hard part awaits… How will we go forth from the NEXT Church National Gathering, and proclaim "yes"?
Since returning from the Gathering, I have tried to look over a few pages of my conference notes each day. In my prayers, I've been asking God and myself what am I being called to do next, in response to the insights, thoughts and challenges that filled my mind at NEXT and in the days following. The things that have come to mind include:
Getting serious about the elimination of racism and white supremacy and examining my own privilege.
Forging stronger relationships with those whom I call mentors.
Exploring how churches and communities are being partners in ministry together.
Daring to shape the rest of my time in seminary in ways that are transformative and eye-opening and, that ask me to examine what the church that I will one day serve will look like (and to practice some of that over the next two years).
This is no easy question, nor is it something that a few extra additions to my to-do list will satisfy (though, perhaps that's a good place to start). NEXT Church asks a larger question of the church, about its identity and its future, one that we must continue to ask as we dare to follow Jesus in an uncertain world.
Asking these questions takes us along a winding and long road, but I pray a prayer of "yes" to God's Spirit guiding me along the way.
---

Rosy Robson is a second-year M.Div/M.A.C.E. student at Union Presbyterian Seminary. Rosy is passionate about creating spaces where people can come together and build relationships, whether that's worshipping together in a pew or over a basket of tacos at a local eatery. Rosy feels called to parish ministry and is looking forward to discerning how bonds between church and community can be forged and strengthened.
https://media.myworshiptimes31.com/wp-content/uploads/sites/55/2016/03/29175502/featured_rosy_reflection.jpg
200
398
Linda Kurtz
/wp-content/uploads/sites/55/2016/01/NEXT-Logo-FINAL-Horizontal_lato-1030x229.png
Linda Kurtz
2016-03-07 13:35:32
2016-03-07 13:39:17
Permission to Say "Yes"