Each month, we post a series of blogs around a common topic. This month, Rev. Michael McNamara is curating a series that will explore the theme of Christian contemplative practice, which has been central to the formation and development of Christianity. We will learn from writers exploring spirituality from both the secular and the religious, embracing the paradox within that — a paradox essential to contemplative practice itself. How can this Christian or secular tradition impact today's church? We invite you to join the conversation on Facebook and Twitter.
by Sarah Pfeil
Yoga, like grace, arrived in my life when I needed it the most. I had gone through an arduous cancer journey and my spirit seemed broken. After my first yoga class, I knew I had found a way to regain a new sense of being, of wholeness.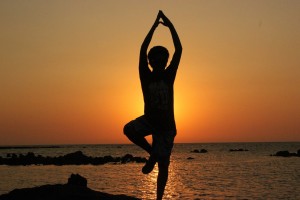 The yoga path I am speaking of is a spiritual toolbox which includes all practices of yoga; ethics, breathing techniques, postures, mindfulness, and meditation. Through my practice of yoga, I integrated all aspects of myself into a personal relationship with God. However, the actual practice of yoga can take each person in a different direction. It is not necessary to subscribe to any particular religious beliefs in order to follow the yoga path. The yoga path can lead to a deeper understanding of God, to greater contentment, or to a stronger and healthier body. This is completely a personal matter and how a practitioner chooses to use yoga is up to them.
The heart of yoga is the cultivation of equanimity in mind and body, so the spiritual heart center can wake to the present moment of being alive and sink into the deep and sustaining relationship with God. We integrate all aspects of ourselves into relationship with God. The foundation of yoga, the 5 yamas and 5 niyamas, are the ethical precepts or core values of yoga. These ethics are about avoiding behaviors that produce suffering and difficulty and embracing those behaviors that promote love. The practice of the yamas and niyamas guides us into right relationship with ourselves, our neighbors, creation, and the Divine Spirit.
The practice of the physical postures strengthens our bodies. As physically embodied beings this vessel/body is where God has chosen to call home. Through yoga we appreciate and listen to our bodies. We release tension in our bodies and create openings for the Holy Spirit to move within us.
In every major religious tradition, the Spirit of God is the source of our life-giving breath. In yoga the focus is on mindful breathing. Yoga recognizes the breath as our life force. When we breath mindfully we remember that the breath of life that God breaths into us is the same breath that we share with all living creatures. We notice that with mindful breathing, our bodies relax, energy is flowing within us and we begin to feel a sense of peace on the inside. Our spiritual heart center softens and opens. The peace on the inside flows out to others as radiance and joyful light.
The practice of yoga is designed to move us into stillness and surrender. We develop awareness to notice thoughts as they arise and let them dissipate before we get entangled in them. As we witness our thoughts, the tight control of the ego-mind loosens. We create space in our minds to slip behind thoughts and surrender into the stillness. In this stillness we meet God.
The practice of yoga healed me…. physically, mentally, emotionally and spiritually. I became a Kripalu yoga teacher and had my own yoga studio. The biggest blessing of my studio was watching students allow their Divine within to radiate out. Minds quiet, the heart opens, change happens, and grace flows. Yoga is a contemplative practice and is an opportunity to remember lost aspects of our own Christian tradition. Namaste.
---

Sarah Pfeil is currently taking part in an 18-month spiritual formation program with the Shalem Institute in Washington, D.C. The program teaches leadership of contemplative prayer groups and retreat leadership. Sarah is a Kripalu Certified yoga teacher and a former Yoga Studio Owner. Sarah has a master's degree in finance and spent 30 years as an executive in Health care Management and Consulting.
https://media.mywtenfold1.com/wp-content/uploads/sites/10/2016/02/29175517/yoga-featured.jpg
200
398
Linda Kurtz
/wp-content/uploads/sites/10/2016/01/NEXT-Logo-FINAL-Horizontal_lato-1030x229.png
Linda Kurtz
2019-08-15 07:17:59
2019-08-15 09:42:56
Opening the Door with Yoga