At CPC we were proud to say about ourselves that "Community Presbyterian is a small church with a big heart." At the outset of this revitalization work, our coaches have challenged us to see ourselves in a different context:
"Community Presbyterian Church, while having a self-identity of being a small church, is, in fact, a larger-than-normal sized church.  The perception is that in the heyday the church had 400-450 members, and now the membership stands at 143.  First, that 143 reflects a clean roll.  Good job!  Second, you are averaging 109 in worship.  That is an incredibly high ratio when compared nationally.  Again, a dramatic sign of good health.  Third, 5-6 new members joined recently, and another 6 are expected to join in before the end of the year.  That is a 7-8% increase in membership annualized – a healthy growth rate."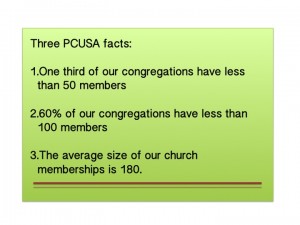 The fact that we are not considered a small church is a paradigm shift in our mindset.  Does it tell us what to do?  No, but it does cause us to think as we consider our role in the building of the kingdom of God in this community. Pastor Mike has referenced change and reform a lot in his recent sermons.  One statement was, "The world and our culture have changed and are changing radically – and we need to be open to the possibility that God is not threatened by that."  Another crucial point Pastor Mike made recently: "God is still in charge!"
Change is not easy.  Retooling old programmatic efforts may not be the most effective approach for the future, but we think we have huge opportunity in our community and we need to explore that.  To that end, a Revitalization Team has been commissioned by Session to explore these opportunities, to engage all of us as a congregation, and to seek God's will in this community.  Love, forgiveness, and community are why churches matter today.  We want to move forward to matter more!
Our Revitalization Team is a mix of long-term members, newer members, recent attendees and potential members and will look at opportunities with fresh eyes. Please pray for our work as we seek to see ourselves more clearly and be faithful to God's vision for us in this day and place.
https://media.mywtenfold1.com/wp-content/uploads/sites/10/2013/09/29180614/Paracletos-Logo-widget1.jpg
234
636
Jessica Tate
/wp-content/uploads/sites/10/2016/01/NEXT-Logo-FINAL-Horizontal_lato-1030x229.png
Jessica Tate
2013-12-05 08:15:39
2016-05-10 21:26:20
Notes From the Field #1 – Community Church