This month, strategy team member MaryAnn McKibben Dana is curating a series of posts on our most recent National Gathering. Now that we've been back in the trenches of ministry for a while, what ideas have really "stuck"? What keeps nagging at us, whether in a positive or challenging way? How has our view of or approach to ministry been impacted by what we experienced? What continues to be a struggle? We invite you to join the conversation on Facebook and Twitter!
by David Stipp-Bethune
My 2017 NEXT Church National Gathering began while I was still "on the way," when I met a turn in the road overshadowed by a billboard:
"DIVERSITY" is a code word for #whitegenocide
I hadn't caught my breath when a couple of curves later revealed another, larger billboard, listing all the white supremacy TV channels.
I didn't want any part of this! I pinched myself, attempting to ensure I wasn't dreaming, because I instantly identified with the Magi for whom a "dream" invited them to return home "by another way," and I had already begun re-plotting my post-conference route!
I simply don't get this yearning some have for being so divided, so "anti-diversity," claiming a Christ who causes division and suffering rather than leading the great, diverse, Kingdom of God in all its glory. This lust for white power and domination is wholly and entirely inconsistent with what I know of Jesus that I secretly pray, "thy kingdom come, thy will be done" as my own code words for "my Jesus is coming to kick your Jesus' a$$."
I've always believed "America" (that presumptive code word for the United States) is at her best when we are an open, diverse, color-filled people who share equality and freedom. Much more so, the Church. Part of the language I've been taught was "a great melting pot," but that's just a code word for "white-washing" everyone so to see ourselves with no marks of difference or diversity—a way of hiding this ugly ingrained racism that robs us all of our identity. Especially the Church.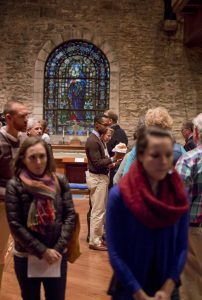 One of the images I encountered at the National Gathering was a promise born from an ancient people trying to live into "an incarnate Kingdom of God." In a conversation about the transition from a first-century Hellenized meal called a symposium to the meal we claim as the Eucharist, my friend and colleague Jeff Bryan reiterated the view that the banquet of the Lord would never fail to bring everyone to the table—literally, the whole stinking community. You would find yourself, quite unwittingly, dipping your bread in the hummus with someone else, not just wholly unexpectedly, but with whom you could never allow yourself to be associated with. Yet you're already guilty by association, because you're at this dinner party together with Jesus.
I've always had this idea I really shouldn't want to dip my bread with a bunch of white supremacists.
I live in Arkansas. And while I don't want to disparage the whole state on account of those here who espouse the anathema of racial purity led by white people, it's definitely true that enough people here are as prepared as ever to fight for a way of life that I want no part of—i.e. segregation, uniformity, monochrome, black and white, separate but equal. And when I say "fight" I don't mean the way we fight about what scripture means or the color of the new carpet for the sanctuary.
And some of those people are in our churches regularly!
And I struggle to know exactly what I need to be doing about it.
Because "church" is one of the places where we have a history of being divided by issues of race.  Maybe that's why in the new-to-me-congregation I'm serving, one of the "rules" has always been "check your politics at the door—we don't talk about these things in church." Code words for "we know we disagree and if we have to admit it, it leads to division."
But it's either the meal of the Kingdom's freedom, joy, diversity, and love; or it's not.  "Jesus, bread, and wine" are—or should be—code words for living together—not because we agree, but maybe because we don't?
Because "church" is one of the places we think or believe we should be more "at one" with each other, "communion" is another code word we use to demonstrate oneness in Christ, downplaying difference and diversity because we must be "a part of the same."
But maybe Jesus had another idea. That a part of loving one another is not based on agreement.  But that we are at table as the Psalmist says, "even in the presence of our enemies."
The Lord's Table: code word for Christ's holding the different together.
---
David Stipp-Bethune has a passion for most things PCUSA, thinks General Assembly should still meet at least annually, and currently serves First Presbyterian Church El Dorado, Arkansas as pastor, having arrived in November 2016 and after pastorates in Pennsylvania, Iowa, Arkansas, and Nebraska. 
https://media.mywtenfold1.com/wp-content/uploads/sites/10/2017/05/29174433/featured-communion-people-17ng.jpg
200
398
Linda Kurtz
/wp-content/uploads/sites/10/2016/01/NEXT-Logo-FINAL-Horizontal_lato-1030x229.png
Linda Kurtz
2017-05-04 08:33:42
2017-06-28 19:38:05
Some New Code Words