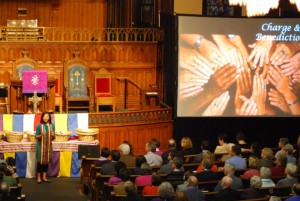 By MaryAnn McKibben Dana
Another national gathering come and gone, and what a gathering it was! We heard from more than one person that this was the one of the best conferences they'd attended. We are humbled to have "touched a nerve" with what we offered in Charlotte and gratified by the effusive response from so many.
Big thanks to everyone who worked on the conference, and a HUGE thanks to everyone who spent time, money and effort to be there and to make it the energizing event that it was.
Over the next few weeks we'll be harvesting stories, quotes, ideas and reflections from you all. If you attended and have a thought to share—or if you were one of the more than 600 people who watched via live-stream—let us hear from you. Email me at maryannmcdana at gmail.
In the meantime, here is a short roundup of blogs and articles inspired by the conference, in no particular order. Please let us know of others:
Jack Haberer, Presbyterian Outlook — NEXT Church at the Improv
Rocky Supinger — NEXT 2013: Worship and Failure
Presbyterian News Service — What's NEXT
The Layman — The Development of One on One Relationships and Freedom to Improvise
Steve Lindsley — Reflecting on NEXT in the Pre-Op Room (Thanks again to Steve for helping provide such spirited and well-executed music during worship, along with Corey Nelson and many others. Heal well!)
Andrew Taylor-Troutman — The NEXT Dress
Robert Austell — Robert has three posts on the conference: NEXT Church–A Year Later, NEXT Church and the Waterbug, and NEXT Church and a Bluegrass Band
Michael Isaacs — #NEXTnext
Jan Edmiston — Pete Rollins and NEXT Church 2013
Adam Walker Cleaveland — Presbyterians and Social Media
Plucky Presby — Seeing Souls (not specifically conference related but inspired in part by it)
What have we missed? Let us know in the comments.
---
MaryAnn McKibben Dana is pastor of Idylwood Presbyterian Church in Falls Church, VA and a co-chair of NEXT. She blogs at The Blue Room. She hopes to blog about the conference but is currently too bleary-eyed to pull it off.
https://media.myworshiptimes31.com/wp-content/uploads/sites/55/2013/03/29180740/319533_536892453022802_1621836130_n.jpg
643
960
maryann
/wp-content/uploads/sites/55/2016/01/NEXT-Logo-FINAL-Horizontal_lato-1030x229.png
maryann
2013-03-06 15:06:21
2016-05-06 12:09:40
National Gathering Blog Roundup