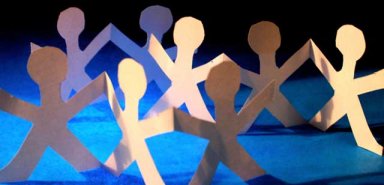 By Jen James
In the conversations about what is next for the Church, I hear a lot of talk about new ways of worship, different methods to engage the community in mission, how to reach young adults, and ways to build new worshipping communities.  What I don't hear a lot about is how this conversation affects Christian Education.  Some pastors wish their over-zealous educators would take it down a notch and just dissolve their dwindling Church School ministry that seems to be draining energy and resources.  Some churches long for the days when education classes were bursting at the seams – a time when people were "serious" about their faith and were committed to reading the Bible.  For those of us who work in Children, Youth, and Adult Ministries, it can sometimes feel like the Church is on the move and we are grasping for a seat on the train.
The reality is this area of ministry can be the very catalyst for change within a church and its community. Educational ministries are geared to reach the very heartbeat of our communities – its children, youth, and young adults. But, authentic outreach is not going to happen with the best Vacation Bible School in town, or a flashy Sunday night Youth Group complete with a band and a super hip Youth Director, or by purchasing the next great curriculum that guarantees children and youth will love learning about God by bringing the fun back to Sunday School. While these ministry tools aren't bad, the problem is we tend to think these will attract flocks of people to our diminishing churches. At best, these programs serve those in our churches.  At worst, they are attracting Christians from neighboring churches where the programs aren't as grand in a twisted sort of membership poaching.  If we are honest, these attractional tools aren't making authentic and lasting connections with the community.
One place I have witnessed the most authentic community partnership is with local schools. Christian Education is built on a foundation of loving and caring for children, youth, and young adults. Our very DNA is built to be in this kind of partnership. In my current ministry context, the church I serve has embraced that part of our ministry with children and youth is to reach out to local schools. This is not just a once a year partnership like providing food baskets at Christmas. This is an ongoing relationship that takes years to build. It is continuing to support the needs of the schools until the school community recognizes that the church genuinely cares about its students, staff, and families.  It means loving families for the sake of the community and not for the sake of church membership.  There is no better place to reach every child in your community — regardless of race, religion, or socio-economic status — than in a local school.  Perhaps if we allow ourselves to be transformed by those relationships, the transformation of our churches will follow.
Intrigued? Here are some ideas to get you started partnering with a local school:
Sign up for the school e-newsletter to read about upcoming events, needs, and volunteer opportunities
Have a member of your church join the PTA
Tithe your Christian Education budget and set aside that money for the needs of local schools
Volunteer at the school either for an ongoing need or for a special event
Support school fundraisers (our church buys our mulch each year from the booster mulch sale)
Sponsor a Booster Ad in in the Drama Club program or a seasonal sports program
Attend sporting events, concerts, and shows as a church
Send a note of appreciation from your church on Teacher/Principal Appreciation Week
Schedule a time to meet the Principal, just to say hello and let them know the church is there if they ever have a need
Advertise for upcoming school events in your church newsletter and bulletin
Donate grocery gift cards for school counselors to keep on hand for when families are in crisis
Become a sponsor for school programs
Get involved in a high school Baccalaureate – if they don't have one, offer to host and help organize one
Volunteer at the All Night Grad Party
Offer to purchase yearbooks for those students whose families can't afford one.
---

Jen James is the Director of Family and Adult Ministries at Bush Hill Presbyterian Church in Alexandria, VA. She just completed her M. Div. at Wesley Theological Seminary.
https://media.mywtenfold1.com/wp-content/uploads/sites/10/2013/07/29180641/children_youth_1.jpg
185
384
maryann
/wp-content/uploads/sites/10/2016/01/NEXT-Logo-FINAL-Horizontal_lato-1030x229.png
maryann
2013-07-09 13:28:05
2016-05-10 17:54:00
Mission Shift in Christian Education