Each month, we post a series of blogs around a common topic. This month, Susan Young Thornton is curating a series highlighting ministry on the Pacific coast — a diverse, rapidly changing, and dizzyingly complex part of the country, and home to our upcoming 2019 National Gathering. We'll hear from individuals serving in a variety of ministry settings about the struggles and blessings of living into God's call on the West Coast. What is it really like to serve in this region? We invite you to join the conversation on Facebook and Twitter!
by Suzanne Darweesh
Did you ever wonder how fresh food and produce appear in your grocery store? I confess as a young woman, graduating from Union Theological Seminary in 1959, I didn't. I took a summer job with the California Migrant Ministry (CMM) and was assigned to Sebastopol. We visited camps and showed films with religious themes as well as nutritional and public health messages. As summer came to a close, I was offered a permanent job in Corcoran doing similar work.
Rev. Doug Still, CMM Director, applied for a grant to train us in community organizing skills. Our staff learned the techniques of community organizing from Fred Ross, Cesar Chavez, Delores Huerta, and others. We learned through house visits what farm workers really wanted: safe, affordable housing; good education for their children; health care; to put down roots in a community and not be forced to migrate from town to town. A campaign for low-cost housing was launched and incredibly, we won! Almost immediately, the Presbyterian Church of Corcoran withdrew its support of the Migrant Ministry. The church membership included growers who did not relish the responsibility of providing education and health care for farm worker families. Presbyterian minister Chris Hartmire, then of CMM, spoke to the Session, but could not persuade them to change their decision.
Shortly thereafter, I accepted a job with Church World Service in Algeria. While I was living abroad, Cesar Chavez and Delores Huerta, aided by Fred Ross, established the United Farm Workers, launching the grape and lettuce boycotts. Returning to the US in 1975, I found many of the same conditions persisted. The most noteworthy change was the presence of portable bathrooms in the fields.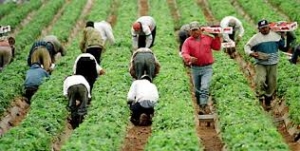 Farm workers have long lived at the bottom of our socio-economic scale. Even today, their pay is abysmal. Farm workers are usually paid by piecework, meaning they work as fast as they can to make as much money as possible. They do backbreaking work under a hot sun for long hours; injuries are frequent and pesticides are often sprayed in the fields while they work. They are excluded under the National Labor Relations Act of 1935 because FDR needed southern votes to pass this legislation and most farm workers and domestics were African-Americans in the south. California recently enacted overtime pay for farm workers, the first state in the nation to do so.
Fifty-three years ago, the Orange County Interfaith Committee to Aid Farm Workers (OCICTAFW) was founded – the oldest support group in the nation. Today, we advocate for farm workers around the country, for overtime pay, pesticides protection, safe working conditions, and we fund raise for the UFW and the National Farm Worker Ministry. Orange County supporters were actively involved in the Coalition of Immokalee Workers struggle with Taco Bell. The coalition asked growers to pay a penny a pound more for tomatoes and to sign the Fair Food Agreement, establishing guidelines and an enforcement mechanism for decent working conditions, specifically to eliminate sexual harassment and violence. Over the years McDonalds, Burger King, and other major fast food corporations plus large catering companies have signed on. Wendy's has not, precipitating a boycott of Wendy's and a letter writing campaign in support of better working conditions for farm workers.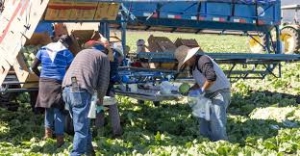 The work continues. A struggle is being waged against the Reynolds Tobacco Company for exploiting tobacco farm workers in its supply chain. Ruby Ridge Dairy Farm in the Northwestern US is accused of allowing pay theft, unsafe working conditions, (two men have drowned in manure ponds), and sexual harassment. Workers who protested were fired. Ruby Ridge is part of the Darigold Cooperative, which has refused to get involved in the dispute. The UFW is asking Starbuck's and Costco, two of the largest purchasers of Darigold products, to intervene on behalf of workers.
A majority of farm workers are undocumented. The threat of deportation and loss of work is a constant concern. OCICTAFW does not support the proposed expansion of the H2A program to address farm labor shortages. Workers would have no power to negotiate working conditions, leaving them at the mercy of their employers.
The establishment and expansion of the Equitable Food Initiative (EFI) marks progress in the Farm Worker Movement. Growers and large corporations such as Costco are concerned about exposure to pathogens in the food products they sell. The premise of the EFI is to achieve better working conditions as well as food safety. The number of participating farms is growing and is cause for celebration! You can support this effort by looking for their certification logo.
Being informed consumers is one of the best ways we can impact the lives of farm workers. Exploitation needs to end. Farm workers deserve dignity, respect, and justice in the honorable work they do feeding us.
---

Suzanne Darweesh is a ruling elder and chair of the board of directors of the Orange County Interfaith Committee to Aid Farm Workers.
https://media.myworshiptimes31.com/wp-content/uploads/sites/55/2018/12/29173148/featured-farm-workers.jpg
200
398
Linda Kurtz
/wp-content/uploads/sites/55/2016/01/NEXT-Logo-FINAL-Horizontal_lato-1030x229.png
Linda Kurtz
2018-12-17 09:22:36
2018-12-17 09:22:36
Ministry in the Fields