Each month, we post a series of blogs around a common topic. This month, Jeff Bryan is curating a series reflecting on the 2018 National Gathering in late February. You'll hear from clergy, lay people, community leaders, and others reflect on their experiences of the National Gathering and what's stuck with them since. How does the "Desert in Bloom" look on the resurrection side of Easter? What are your own thoughts of your National Gathering experience, or on what these reflections spark for you? We invite you to join the conversation on Facebook and Twitter! 
by Yena Hwang
Each year, the NEXT Church National Gathering creates a time and space for me to think theologically upon relevant topics that keep me engaged, informed, and excited in my ministry. This year's gathering was no different. This year's theme helped me to reflect upon these questions: "What is dying? What needs to die? Where/what are the signs of resurrection after the death?" This intentional time allowed me to reflect theologically upon these matters with colleagues in a communal setting, as I continue to respond to God's call upon my life.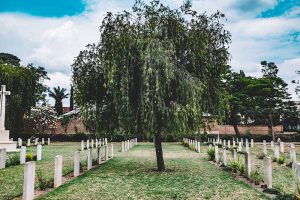 This year's theme strengthened my faith in the promise of resurrection. The problem is that in order to experience resurrection, you must first experience death. Death is an intricate part of life that most people do not like to talk about, until it is unavoidable. It is scary to think about death, because it is the great unknown. It is sad to think about our loved ones not existing in the way they used to exist, where we can see, hear, touch, and hold them, and spend time with them in meaningful ways. There is no argument; death brings sadness. However, death also brings a new way of being and relating to the world.
There are many deaths we experience along on our way to physical death. These deaths are more subtle and they come so quietly that we do not even realize it until much later. Idealisms die with realisms setting in. Expectations die with sustained disappointments. Dreams and desires die with harsh realities of surviving. Our sense of worth dies when our worth is tethered to the values of the world measured in dollars or skin colors. Whether we realize it or not, we have practiced death and dying in various ways.
What used to be is no longer what it is…
The Church is experiencing these kind of non-physical deaths more obviously than before, it seems. Nothing completely new (remember Ecclesiastes?), but the hyper-connected world we live in makes us more acutely aware of this. The sky is falling! The Church is dying! What are we to do? How are we do respond and react?
The ministry to the people on the brink of death and pastoring to those who are left behind to carry on the burdens of living is an important part of our calling. Any minister would tell you that tending to matters of death – all the various ways that death disrupts people's lives – is an integral part of our ministry. We know how to show up and be present for those who are dying and grieving; we know how to hold families through their grief and give them the words when they have no words to express their grief and allow the healing process to take place with meaningful rituals of our rich Christian tradition.
So, what we do is just that: we show up. Be present in people's discomfort as they experience the church existing in a different way, not in the way it used to be. We use ancient words to give their grief meaning. We allow our rituals to guide them. We hold people through their anxieties, grief, and fear of the unknown, and pastor them through their loss of "what once used to be." We know how to do that. And we remind them of God's promise for them to consider: resurrection.
What if we were to look at "deaths" as ceasing to exist in the way we once existed, in order to exist in another way that cannot be fathomed? What if we were to look at death as a doorway through which we find ourselves rising into another existence…a doorway to experiencing the resurrection? What if we were to minister to the communities going through death with this theology undergirding all our work? How would that change our attitude, our actions and our messages? It will look different. It still won't be easy, but I feel more confident that I can show up to do that work. What is dying is the old self – what is rising is the new creation in Christ that will usher in the kingdom of God. May it be so.
---

Yena Hwang is associate pastor of Christian formation at Fairfax Presbyterian Church in Fairfax, VA. Yena received her M.Div. from Princeton Theological Seminary in NJ and M.A. in Marriage and Family Therapy from Louisville Theological Seminary in KY, and recently completed her training as a life coach. Yena's passion is around cultivating healthy relationships and creating meaningful experiences that nurture people's faith and spirituality. As such, she loves to hang out with people around eat good food and make observations about intersections of life. She is married to her best friend and a mother of two teenaged boys, who keep her real and with it!
https://media.mywtenfold1.com/wp-content/uploads/sites/10/2018/04/29173630/featured-tree-death.jpg
200
398
Linda Kurtz
/wp-content/uploads/sites/10/2016/01/NEXT-Logo-FINAL-Horizontal_lato-1030x229.png
Linda Kurtz
2018-05-16 05:35:05
2018-04-13 11:02:59
Ministry on the Brink of Death