Each month, we post a series of blogs around a common topic. This month, Lee Hinson-Hasty is curating a series identifying books that Presbyterian leaders are reading now that inform their ministry and work. Why are these texts relevant today? How might they bring us into God's future? We invite you to join the conversation on Facebook and Twitter!
by Bridgett Green
What happens when chaos steps in and disrupts our present circumstances? We become dizzy and disoriented us as our world changes beyond comprehension. We lose a sense of who we are and what we're doing. And we wonder what is God doing and trying to show us.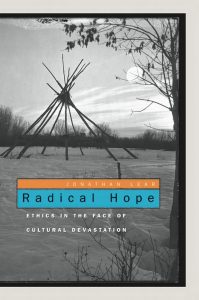 When the method to the madness is lost and we are simply left with just madness, how are we to respond? Examining the courageous leadership of Chief Plenty Coups of the Crow nation, Jonathan Lear offers Radical Hope: Ethics in the Face of Cultural Devastation. His anthropological analysis with theological insight into Chief Plenty Coups and the Crow nation's experiences of radical hope provides insights about how to face an uncertain reality with courage and conviction.
Chief Plenty Coups led the Crow nation at the turn of the 20th century when seismic cultural and political shifts devastated their way of life. Preserving their land, living off wild buffalo, and having a rich spiritual life were central to their culture. Invasions by white settlers, wars with other Indigenous nations, broken treaties with the U.S. government, and the utter annihilation of the buffalo created a massive shock wave to the Crow's way of life and concepts of living.
Devastated by their reality, the Crow nation engaged in a radical hope to confront their present circumstances by synthesizing their traditions with a new conceptual framework for flourishing. Radical hope is the exercise of imaginative excellence for generating creative responses to world challenges. Rooted in vibrant ideals, it allows for a rewarding life in the face of hard realities. To have a radical hope, one must have a faith, or what Lear calls a psychological flexibility, to believe in possibilities without knowledge of how they would manifest.
As a young man, Chief Plenty Coups received a divine message warning him of future destruction and encouraging him to listen carefully and to learn from others. The elders and the community adopted his dream. Not knowing how it would manifest, the people allowed the dream to generate a radical hope for survival that would surpass their understanding.
With radical hope, the Crow nation kept their lands and mountains despite the pressures and broken treaties by the U.S. government enacted in the reservation system. Chief Plenty Coups encouraged generations to go to white schools, explaining that knowing what the white man knows would keep him from being able to oppress them. Eventually, the Crow nation built on their reservation Little Big Horn College that incorporated their history and traditions with western education. The Crow nation developed a new conceptual framework for flourishing.
When we experience a loss of identity, culture, or vocation, it's an opportunity to follow the wisdom of Chief Plenty Coups: 1) access the real challenges; 2) seeks God's will; 3) discern with community the vision; 4) have faith God's vision (versus the prescription); 5) listen and learn from various sources; and 6) respond creatively and courageously to the present reality (and not a reconstructed version of the past).
---

Bridgett A. Green is a teaching elder and is completing her dissertation as a Ph.D. candidate in New Testament at Vanderbilt University. Living outside of Nashville, she serves the church as an acquisitions editor at Presbyterian Publishing Corporation; as a trustee on the board of Louisville Presbyterian Theological Seminary; and as a trustee on the board of the Mountain Retreat Association (aka Montreat). She resources people as they practice Christianity with the tools of sound biblical interpretation, rigorous theological inquiry, and good questions.
https://media.myworshiptimes31.com/wp-content/uploads/sites/55/2017/03/29174514/featured-radical-hope.jpg
200
398
Linda Kurtz
/wp-content/uploads/sites/55/2016/01/NEXT-Logo-FINAL-Horizontal_lato-1030x229.png
Linda Kurtz
2017-03-28 07:45:43
2017-03-29 10:28:45
A Method in the Midst of Madness