Each month, we post a series of blogs around a common topic. During August, John Wilkinson is curating a month of blog posts exploring where we are as a church through the lens of the new Presbyterian hymnal, Glory to God — what are we thinking about? how are we worshiping? what matters to us? where are we headed? Join the conversation here, on Facebook, or Twitter!
By Amy Williams Fowler
Holy Spirit and Pentecost Hymns in Glory to God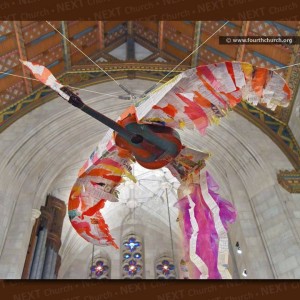 I was baptized on Pentecost in June, 1954, at the First Presbyterian Church of Woodbury, NJ. Amy, meet the Holy Spirit. But I grew up in Presbyterian churches that were uneasy with references to the third person of Trinity, with the exception of the Apostles' Creed recited on Communion Sundays. I don't remember any Pentecost celebrations until the 1980's. While I was under care in preparation for ordination I was asked each year by the Presbytery's Committee, "What Christian doctrine causes you the most difficulty?" My answer was the same for four consecutive years: The Holy Spirit. Each year the committee members responded: "Yes, me, too."
After I was ordained, when I experienced the touch of God's Spirit on my spirit in real time, it occurred to me that this might be what people had been talking and writing about for so many centuries. I was able to revisit times of real grace (pre-ordination), and to say, "Surely the Lord is in this place, and I did not realize it."
When I was serving as an Associate Pastor at First Presbyterian Church in Atlanta, GA, in the early 1990's, we learned a beautiful Pentecost hymn, set to a tune arranged by one of my favorite composers, Ralph Vaughn Williams, Come Down, O Love Divine (Glory to God, 282). The text is dated c. 1367, and it is lovely.
Come down, O Love Divine; Seek out this soul of mine, and visit it with you own ardor glowing.

O Comforter, draw near; within my heart appear, and kindle it, your holy flame bestowing.

O let it freely burn, till earthly passions turn to dust and ashes in its heat consuming.

And let your glorious light shine ever on my sight, and clothe me round, the while my path illuming.

And so the yearning strong, with which the soul will long, shall far outpass the power of human telling.

For none can guess God's grace, till Love creates a place, wherein the Holy Spirit makes a dwelling.
When I moved to Indianapolis and began interim ministry, I vowed that I would share this wonderful hymn with every congregation I would serve. I am delighted to see that it "made the cut" as one of sixteen Gift of the Holy Spirit hymns in Glory to God. It is an impressive collection of new and old hymns — well worth singing on days other than Pentecost, too.
During my interim ministry in Anderson, IN, we sang Come Down on Pentecost, and one of the members met me in the narthex to say, "Dear, we only like the old hymns here." I replied, "Then I know you enjoyed this one — written in the 14th century." Actually, I was compelled to include it. I had heard it earlier in the Spring as I was driving up I-69. It was the day after the Oklahoma bombing, and one of firefighters was being interviewed on National Public Radio. He talked about carrying the babies' bodies out of the daycare center, and how his life would be forever changed. I remember that he said something like: "I can't say why this has happened, and all I can do is pray." My eyes were so full of tears that I pulled over. The musical interlude that followed on NPR was the tune of Come Down, O Love Divine, thus proving that there is at least one Christian at NPR, despite what we have heard to the contrary.
I sang along: For none can guess God's grace, till Love creates a place, wherein the Holy Spirit makes a dwelling. Amy, meet the Holy Spirit!
---

Amy Williams Fowler is the Presbytery Leader of the Presbytery of Genesee Valley.
https://media.mywtenfold1.com/wp-content/uploads/sites/10/2015/03/29180045/2015Bird.jpg
720
720
Jessica Tate
/wp-content/uploads/sites/10/2016/01/NEXT-Logo-FINAL-Horizontal_lato-1030x229.png
Jessica Tate
2015-08-19 06:04:12
2019-05-10 08:42:19
Meeting The Holy Spirit Again (for the 61st Time)