Each month, we post a series of blogs around a common topic. This month, Sarah Dianne Jones is curating a series written by our workshop leaders at the 2017 National Gathering. What excites them about the Gathering? What are they looking forward to sharing and discussing during their workshop? We invite you to join the conversation on Facebook and Twitter!
by Beth Utley
The answer is contemporary worship. That's what people want. That will bring people into the church. And, for some, it did. Until it didn't.
The answer was mega church. Until it wasn't.
The answer was emergent church. Until it wasn't.
The answer is missional church. The jury is still out…
I think the answer will be the same. Mission alone won't save God's church.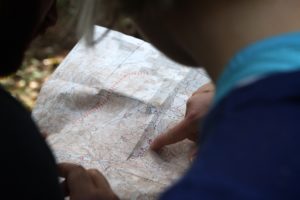 Most of our congregants have lived through a religious anomaly. In our lifetime, most everyone belonged to a church. Folks who didn't were looked upon with pity or suspicion. Every politician, every businessman (gender purposeful), every good mother and wife belonged to and participated in a faith community. Protestant was privileged at the time, but if you had to be Jewish or Catholic, we could understand, though we prayed for you.
This was our world. This shaped our assumptions and our understandings of who we were as church people and how we interacted with our neighbors. It's not our world any more, thanks be to God. But, it's no wonder we don't quite know what to do with our declining churches.
Being a disciple of Christ had a particular focus in the first century, quite a different focus during the reformation. The in-our-face-challenge today involves being part of a people who were "trained" in one religious culture but find themselves neck deep in a different one.
We may feel like we are at the beginning of a Mission Impossible movie. "If you choose to accept this assignment," the tape says, only we really don't have a choice — not if we want thriving, meaningful communities of faith.
The answer will not be some kind of magic evangelism…but we are learning to ask the questions. We are better understanding our current culture and its need for God's good news of transformation, redemption, and reconciliation.
It will take all of us in the conversation, all of us committed to exploring the issues, all of committed to "throwing spaghetti against the wall" until we discern God's will and way in our time.
We invite you to come and throw spaghetti with us at the National Gathering.
Map, Message and Mission is offered on Monday during workshop block 1 of the 2017 National Gathering.
---
Beth Utley is the director of Christian formation at Forest Hills Presbyterian Church in High Point, NC. She has worked in faith formation for almost 20 years. Her work with skeptical youth and young adults and her congregation's commitment to evangelism honed her knowledge and skill. 
https://media.mywtenfold1.com/wp-content/uploads/sites/10/2016/12/29174819/featured-map.jpg
200
398
Linda Kurtz
/wp-content/uploads/sites/10/2016/01/NEXT-Logo-FINAL-Horizontal_lato-1030x229.png
Linda Kurtz
2016-12-22 13:40:30
2016-12-22 13:40:30
Map, Message and Mission