by Elizabeth Howell
Our church is one of the few congregations in our city that still offers a weekday morning Vacation Bible School.  It is a lot of work to make the week come together, but the children and volunteers love it.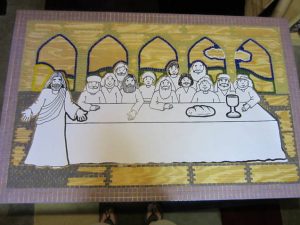 Early in 2012, I set to work preparing a curriculum that would fit our goals for Christian education.  After much brainstorming, my key volunteers and I settled on the theme "Come to the Table: A Journey from the First Passover Meal to the Last Supper."  Our goal was to teach children about the Eucharist, and to connect the story of God's people in Exodus to the Sabbath meal Jesus shared with his disciples on Good Friday.  For weeks, we tossed around ideas of creative ways to help the children express what they would be learning each day.
My creative and enthusiastic co-director Kathy knew just where to turn for inspiration.  The image of our week would be the communion table.  With only an old donated kitchen table, we turned to a church member with the skills and vision to create a beautiful piece of worship art.  As this man planned and measured and ordered thousands of tiny colorful tiles, I hoped the piece would come together as he dreamed it would.  Many times throughout last spring, I thought to myself that an ordinary person would not have the patience for such a venture.  This man was not daunted.  His plan: to have 100 children create a mosaic of the Last Supper over the top of a worn out kitchen table.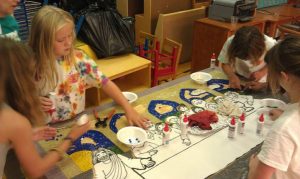 This one member enlisted the help of a woodcutter and a portrait artist in our church.  He fortified the table to withhold the weight, another member enlarged a children's coloring book page to be our pattern, and others set about sanding and painting.  At last, the prep work was complete.  It was time to turn the table over to our children.  Over four mornings in July, the children of our church and neighborhood created a communion table that will host a sacrament for generations.
Each day, I photographed the progress.  Little fingers, many little fingers, pieced together the Last Supper.  We were all fascinated to see the scene come to life.  Each day, volunteers took time to allow our children to choose their tiles, to slowly squeeze out glue, and to fit their colors into place.  They were so careful with their work.  The stage of our Fellowship Hall, where the children worked, was quiet with reverence, as they meditated on piecing together this holy scene.
Reflecting back on this VBS project, I often consider how much easier it would have been for the adults to do the work themselves.  It took far more time to plan, to prepare, and to wait for younger, unskilled hands to complete the table.  It is the work of these little fingers in partnership with our artists and volunteers, however, which gives the table its deep meaning in our church family.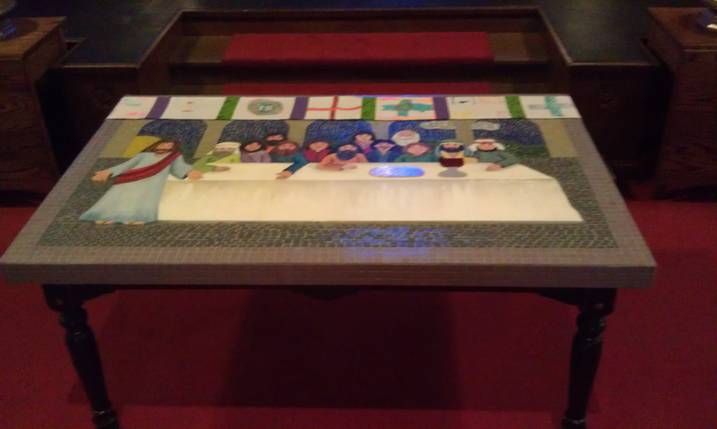 I think about this often.  Like many of you, I feel the frustration of recruiting many hands to staff programs and mission.  Some days, it is a struggle to find those bodies that can make an event or a worship service come together.  From time to time, I find myself doing the work a volunteer should be doing.  I tell myself it would be simpler for me to accomplish the task myself rather than find, call, and train a volunteer.  If I'm not careful, however, it is easy to forget how much more worthwhile it is to share that load and enlist the participation of others.  My ministry is to equip these people, not do the work of the church alone.
I remember those adults who patiently waited for children to work and to find just the right tile that was the perfect shade and shape.  My job is to do just that.  My job is to wait, pray, and patiently discern ways to equip God's people to share in the ministry of Christ's church.  My job is to equip them and to walk beside them, seeking out ways that their gifts might meet a need, fitting just the right tile into just the right space.
---
Elizabeth Howell is the Associate Pastor of Christian Education at  Second Presbyterian Church in Roanoke, VA, where she coordinates Sunday and  mid-week educational opportunities for children and adults.  She loves  worshiping with her congregation, ordering fresh packs of curriculum, and taking  long walks with a hardhat (her church is in the midst of an 18 month  renovation!).  In her free time, Elizabeth enjoys spending time outdoors  with her fiancé Chris and their dogs Penny and Berk.
https://media.mywtenfold1.com/wp-content/uploads/sites/10/2012/11/29175246/ehowell3.jpg
429
717
Jessica Tate
/wp-content/uploads/sites/10/2016/01/NEXT-Logo-FINAL-Horizontal_lato-1030x229.png
Jessica Tate
2012-11-28 13:57:06
2016-05-12 21:12:57
Many Bodies, One Table