Each month we ask a different person from the NEXT Church community to assemble a series of posts around a particular theme. This month, Lee Hinson-Hasty is curating a conversation around theological education. Have ideas or reflections to share? Offer your thoughts in comments, on our Facebook page, or contact us here.
What Laura Mariko Cheifetz (in conversation with Lee Hinson-Hasty) thinks is coming and becoming in theological education.
"'People are rejecting leaders who rule by the formal authority of their position and command by hierarchical power,' said Seidman, but 'they are craving genuine leadership — leaders who lead by their moral authority to inspire, to elevate others and to enlist us in a shared journey.'"

Thomas Friedman, December 10, 2013, "Why Mandela Was Unique"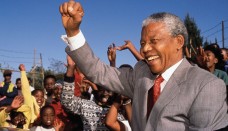 Some say there is no future in theological education. Church membership is down almost across the board, with the exception of Pentecostal churches, Seventh Day Adventists, and the Church of Jesus Christ of Latter-Day Saints. Enrollments are down in many seminaries, and the Master of Divinity is widely expected to continue to be a degree that draws consistently fewer applicants each year.
What future? Why would we bother to talk about it?
Lee Hinson-Hasty declares the death of theological education to be premature, and not just because it's his job. We sat down the other day for a conversation, and Lee pulled the December 10th edition of the New York Times with this Op Ed on Mandela out of his pocket. Mandela did not march into his position of power planning a giant social takeover, but instead led on the strength of the moral authority he had built over years of leadership, whether that leadership took place from a prison or within his party. Institutions of theological education are preparing people, despite the predictions of ultimate destruction. As Lee sees it, these schools are forming people to lead with moral authority and inspire others to join in a shared journey.
Where pastors and Mandela differ is that Mandela's leadership could have relied on giving orders based on his power, instead of working to persuade people with his moral authority. Pastors in the PC (USA) can't make other people do anything. They can't march around and give orders, although pastor's orders sound like they would be deeply satisfying to give, and difficult to follow. "Believe!" or "Seriously, just go talk to that homeless person over there" or "You guys. I just need you to tell other people at least once in your lifetime that you're a Christian and why you're a Christian" or "I'm going to give you a two minute-limit to share your opinions in this meeting, and no one gets to repeat points made previously."
The power that pastors do have is to lead with genuine moral authority, and inspire others to do the same.
Here's the thing: people like having the most attractive pastor. Some feel like their church is the best because they use the same strategic planning techniques used by organizational development professors or a social entrepreneurship think tank. While the church has much to learn from the world of business and other sectors, churches and their leaders do not get their authority from having the best model, making the most money, or selling the most products.
Churches are fundamentally different spaces. Churches do not look for the best, most highly qualified members. Churches are not looking for only the wealthy, the attractive, the successful, the most highly educated. Churches do not seek out only the perfect families. Churches look for those who seek or live with doubt. Churches are places that search for those who struggle with mental illness. Churches open their doors to felons. Churches work to ensure there is enough food on the tables of the members of their community. Churches understand we as human beings are connected to the lives of people halfway around the world, and we cannot ignore our own impact, economic and environmental, on others. Church leaders have the privilege of serving the wounded, the unpretty, the struggling. Church leaders can persuade people with the gospel and their own moral authority to live into a better way to be a community, one that is open to the whole people of God instead of exclusive to the well-put-together-who-never-have-any-problems people of God.
Consider what the world would be like if everyone led by the power of their moral authority, and not on the power vested in them by virtue of their positions. It is a lot more work.
We who belong to churches have a faith community that inspires us, and has the potential to elevate us to lead with moral courage and authority. Those of us working out there in the world are confronted with many leadership models in our local, state, and national governments. We see authority where we work and where we go to school. Church has the potential to offer an alternative leadership model, particularly to those regular church people serving in prominent positions in the public and private sectors.
Seminaries and divinity schools are not the places to go to learn command-and-control leadership, or how to terrorize your own staff. They are not primarily focused on skills-based education for creating the best programs or for learning aggressive expansion. Pastors who engage in that kind of leadership learn that somewhere else. Instead, these are spaces of formation for an alternative kind of leadership. Most of these leaders will be footnotes in history, instead of headlines.
The world needs alternatives. Theological education is one of those alternatives.
---

Laura Mariko Cheifetz is the Executive Director of Church & Public Relations at the Presbyterian Publishing Corporation, one of the six agencies of the Presbyterian Church (USA). Prior to joining PPC, she worked with The Fund for Theological Education and McCormick Theological Seminary. Laura is an ordained teaching elder in the PC (USA). She holds a bachelor's degree from Western Washington University, a Master of Divinity degree from McCormick Theological Seminary, and a Master of Business Administration from North Park University. She blogs at churchrelations.blogspot.com and can be followed @lmcheifetz

Lee Hinson-Hasty @leehh is coordinator for Theological Education and Seminary Relations and a lead staff person for the Committee on Theological Education of the Presbyterian Church (USA) and the Presbyterian Mission Agency. Ordained in 1995, he has served as a campus minister and pastor in Virginia and as director of church relations at St. Andrews Presbyterian College in North Carolina.  Hinson-Hasty actively engages in dialogue, study and initiatives that foster relationships and leadership development in the church and academy including on his the blog, "A More Expansive View: Encounters with Presbyterians and our Seminaries."  A graduate of Wake Forest University (BA-History), Louisville Seminary (MDiv), and McCormick Theological Seminary (DMin), Hinson-Hasty is interested in leadership in a multicultural world, serves as Vice Chair of the Fund for Theological Education, is a member of Lectio Jubilate, and is married to the Rev. Dr. Elizabeth Hinson-Hasty.  Elizabeth and Lee are parents of Garrison (13), Emme (7), and a four month old puppy, Basci.
https://media.mywtenfold1.com/wp-content/uploads/sites/10/2013/12/29180456/Nelson-Mandela-in-public-hd-wallpapers.jpg-228x131.jpg
131
228
Jessica Tate
/wp-content/uploads/sites/10/2016/01/NEXT-Logo-FINAL-Horizontal_lato-1030x229.png
Jessica Tate
2013-12-20 08:17:04
2016-05-10 21:35:30
What Mandela and Pastors Have In Common