Each month, we post a series of blogs around a common topic. This month, Andrew Kukla is curating reflections on being evangelical in the church. Have we connected our congregations to resurrection life? Have we taught them how to talk about it?  How to live it? How to connect others to that life-giving, life-abundant power? We invite you to join the conversation on Facebook and Twitter!
by Hope Italiano Lee
I couldn't have been more than 10 or 11 years when I heard my first "Jack Tale."  Jack tales are a tradition in Appalachian folklore. I'm not from Appalachia, but the director of the summer camp that I grew up in was from the hills of Kentucky and he could tell one mean Jack Tale after another with passion and energy and imagination. These stories were so engaging, so compelling, that week after week, summer after summer, hundreds of kids would quiet themselves down, sit still as stones, and listen to Jack's latest adventure. It's been a good 20 years since I last heard one of those Jack Tales,  but I know them so well that even today I could recite one after another by heart. And I do just that, for my children, the next generation, all the time.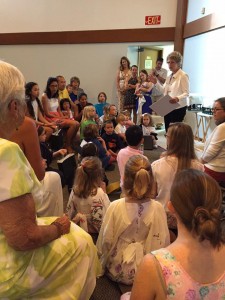 Compelling stories take residence in the heart and soul and, after a period of time, become very much part of a living, breathing body. Evangelism is simply telling the greatest story ever told. Evangelism is telling the story of how God so loved the world that He gave His only Son, that whosoever believes in Him shall never die but have everlasting life. Evangelism is telling how God's story met up with your story and changed your world en route to transforming the whole world. Evangelism is helping others to know and to share their story and to help them see where their story intersects with God's story.
Down here at the beach, we love to tell the story of The Well. The Well is a place where each week the story of God is faithfully proclaimed to all generations with hospitality, community, and joy. We started The Well about a year and a half ago, looking to the scriptures to guide us to create a place where all, but especially those who didn't think they were included in the "all," would find welcome and hope. It's a place of teaching as we go – teaching grace by demonstration, teaching sacraments by active engagement,  teaching scripture by asking difficult questions, and being honest about the hard places.  An amazing thing happens when you make Jesus the main focus – people come closer. They want to hear the story, not just any story, but the story of a God who loves them to the ends of the earth, even when the rest of the world has told them that they are unlovable.
Recently, we held a small memorial service within a regular Sunday service at The Well. Dennis, the precious man who died was one of the first people to be a part of this special place. He had epilepsy and we were within walking distance of his home. Every Sunday he would come early, greet people and remind them how much Christ loves them, and how glad he was that they were there to celebrate that love together. He embodied a Christ-like grace that was reflective of Jesus' encounter with the woman at the well – the encounter which drives our ministry. When Dennis died, we were looking at his emergency contact information and we discovered that The Well family was his emergency contact. So it seemed obvious to all of The Well family that we should give witness to the resurrection right there at our weekly gathering spot and celebrate Dennis' home-going with the same joy he gave to us as he made The Well a home for so many.
The Well is a place filled with stories just like that. Every person who comes in those doors carries with them stories of pain, hurt, frustration, disillusionment, and sometimes betrayal. And what they find is not a program, not a strategy, not the latest and greatest in fog machines, drum pits, or laser light shows. They find God's old story of love, sacrifice, grace, and life, told with passion, imagination, and energy to a new generation looking to find a story that will forever change their story. The storytellers are people who speak from a place of authentic transformation of the heart, the place where the best stories come from.
Followers of Christ are called to be winsome story tellers, who will tell God's story through their story wherever they go because to do otherwise would betray their heart.  We trust in the work of the Holy Spirit and so we tell our story to open doors, to share a living faith, and to allow drops of grace to cover the people whom God so deeply loves.
"I love to tell the story. 'Twill be my theme in glory. To tell the old, old story of Jesus and His love!"   
---

Hope Lee is the Lead Pastor of the Kirkwood Church and The Well in Bradenton, Florida. She is a highly sought after speaker for evangelism and church growth conferences all over the United States and serves as an Evangelism Coach for the national offices of the PC(USA).  You can find her on the web at www.biggreenchurch.org or @PastorHope  or at the beach with her husband and 3 amazing kids!
https://media.mywtenfold1.com/wp-content/uploads/sites/10/2016/04/29175405/featured-storytellin-g.jpg
200
398
Linda Kurtz
/wp-content/uploads/sites/10/2016/01/NEXT-Logo-FINAL-Horizontal_lato-1030x229.png
Linda Kurtz
2016-04-06 08:35:24
2016-06-13 19:09:59
I Love to Tell the Story