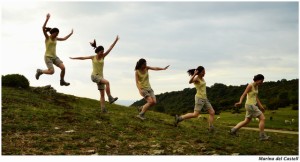 Each month we ask a different person from the NEXT Church community to assemble a series of posts around a particular theme. This month, Carol Steele is curating a conversation around camp and conference ministry for the NEXT Church.  Have ideas or reflections to share? Offer your thoughts in comments, on our Facebook page, or contact us here.
By Colleen Toole
When you are the child of church musicians, you do not go on "vacations" growing up.  You go to conferences.
I spent my summers, elementary school through high school, attending conferences, usually worship/music focused.  I experienced incredible conferences that transformed me, and I sometimes experienced terrible conferences that left me dry.  I went to Methodist conferences, I went to Presbyterian conferences—often back-to-back!
I loved conferences for the creative worship I experienced, for the friends I made, for the ways I learned and grew, but, frankly, I didn't think much about their impact on my life until my second year of undergrad when I was stressed and exhausted, both physically and spiritually.  I was having a hard time balancing my spiritual life and my academic life, leaving my soul, as Psalm 42 says, thirsting for the living God.  I needed something like a spiritual bootcamp to get myself back into shape, to focus on God, surrounded by a community of faith.  So, that summer I started working on summer staff at Montreat Conference Center in North Carolina, running sound, lights, and projections for all of their conferences.
What I discovered upon diving into the conference deep end was that the years I had spent going to conferences had made me hungry to experience different expressions of God. I found my own questions voiced, echoed, and complicated.  I realized that, for years, I had regularly met people from different parts of the country—even different parts of the world.  I had worshipped with them, I had learned from their points of view, I had shared different visions and experiences of God with them.  As I did so, my own conception of God began to expand, giving way to more questions, more ideas, more thirst.
Conferences create the space for us to encounter each other, and in doing so, encounter God.  At conferences we get a wider glimpse of the diverse unity of the body of Christ – people truly coming from east and west, from north and south, to sit at the table together.  As we come together in the shared love of God, we have the opportunity to live and work and worship together in a spirit of sacred collaboration, sharing ideas and asking questions freely, even disagreeing, challenging and widening our experiences of worship, of Christian community, and of God.  The chance we have to get out of our own lives, the release the modus operandi that we are so accustomed to, the fellowship of those we would never have met otherwise—those are temporary, yes, limited to the confines of the conference.  But the thirsts that these events inspire are not.  They are the thirsts that lead us to where we might find living water.  My thirst, multiplied by three summers of working full-time in these environments, led me to seminary.  Others might be led to teach, to serve the "least of these", to go back to their home churches to share the fruits of this transformation, even to bring this thirst into their secular professions.  The important thing is the thirst.
This past summer, I found myself once again at Montreat, this time leading a small group of youth in discussion about the how the themes of the conference intersected with their daily lives.  What I could not get over was the joyful curiosity of these youth—the questions they asked!  Questions about how Scripture became Scripture, about how the Church became the Church. Questions about how we interpret the Bible today, in our own context.   Deeply important questions, questions about how we live out our faith in the world, difficult questions, questions that gave me hope for the future of the church.  Questions that, perhaps, are easier to ask in the safety of a place removed from our usual stomping grounds.  I gave very few answers; there are no easy answers to these questions.  My job became affirming, challenging, complicating the questions by bringing voices into conversation that may never have spoken to each other before.
Our job is not to satisfy the thirst.  Our job is to cultivate it.
---

Colleen Toole is pursuing her M.Div. at Princeton Theological Seminary and works as a sound designer, director, and vocal coach for live theater.
photo credit: __MaRiNa__ via photopin cc
https://media.mywtenfold1.com/wp-content/uploads/sites/10/2014/03/29180430/camp-slider.jpg
514
950
maryann
/wp-content/uploads/sites/10/2016/01/NEXT-Logo-FINAL-Horizontal_lato-1030x229.png
maryann
2014-03-04 12:24:24
2016-05-12 22:02:56
Living the Questions… at Camps and Conferences