When your children ask in time to come, "What do those stones mean to you?" then you shall tell them that the waters of the Jordan were cut off in front of the ark of the covenant of the Lord… Joshua 4:6-7
by members of the speaker selection committee for NEXT Church
"What's with the stones?" It's the kind of thing you would expect a child to ponder when encountering a seemingly random set of rocks piled orderly by the river. The stones, the reply would start, are a reminder. They help us remember that God has led God's people, and on a day very much like today, God opened up a future we had not fully dreamed about. The questions would continue for generations as they came to that spot by the river. The questions would be about the past. The answers would be about the future: don't forget God's power makes it possible for us to live in resilient hope anticipating what God will do next.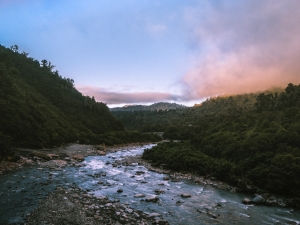 With 700 amazing church leaders descending on Cincinnati for the 2020 NEXT Church National Gathering shaped by that Joshua passage, the team tasked with inviting key-noters, preachers and testimony-givers for this conference knew that our invitations needed to go to people actively involved in relevant ministry. The team needed these speakers to help us look to the future, to reflect on the way in which God has worked in them and through them, and to give us a word of challenge to ignite our witness, hope, and power in God.
The team was made of people with an enduring commitment to NEXT Church (which, incidentally, is celebrating its 10th anniversary!). Those of us in that team are from throughout the country, but there are key participants from Cincinnati and the surrounding area. We wanted the narrative of the gathering to have a local and a national flavor, all at once. That is no small task.
The team discerned together for several months, though we depended on video conferencing to meet "face to face." We each contributed names of people we knew, people we would LOVE to hear speak, people others were recommending. We did our research not just by going online, but by asking our networks what they knew about these potential speakers (and whether they knew other folks to add to the mix).
Knowing that those 700 participants would be coming, knowing that we would be celebrating a big anniversary for NEXT Church, and knowing that God is always articulating hope in new ways, we set out to discern how God could use these speakers to help us reflect not on a pile of static rocks from the past, but consider the dynamic gathering of living stones which is shaping the church's future.
Join us in Cincinnati and let these amazing speakers help us remember why God has gathered us as the church to begin with.
---
You can read more about all of our speakers, preachers, and testimony givers on our speakers page, and you can register for our 2020 National Gathering on our registration page. 
https://media.mywtenfold1.com/wp-content/uploads/sites/10/2020/02/29172255/tyler-lastovich-oPr5CMZSOJQ-unsplash-scaled.jpg
1536
2048
Layton Williams
/wp-content/uploads/sites/10/2016/01/NEXT-Logo-FINAL-Horizontal_lato-1030x229.png
Layton Williams
2020-02-05 13:56:39
2020-02-05 13:59:57
Listening to Living Stones