Each month, we post a series of blogs around a common topic. This month, Jeff Bryan is curating a series reflecting on the 2018 National Gathering in late February. You'll hear from clergy, lay people, community leaders, and others reflect on their experiences of the National Gathering and what's stuck with them since. How does the "Desert in Bloom" look on the resurrection side of Easter? What are your own thoughts of your National Gathering experience, or on what these reflections spark for you? We invite you to join the conversation on Facebook and Twitter! 
by Mads Benishek
We find ourselves in the wilderness for all kinds of reasons: to sulk (Jonah), to hide (Elijah), to mourn (Ruth), because we are called there (Jesus), and because we have no other option (Hagar). We don't go there willingly most of the time. The church didn't choose the wilderness. Indeed, we've feared it and puffed ourselves up, shunning it and pretending that we have all the answers and have no need of the wilderness. Yet the wilderness could care less about our self-importance and best-laid plans.
So here we find ourselves: plunged into, deposited, or chased out into the wilderness. After panicking a bit, we sit on the ground with our back to a tree trunk and stare into the sky for a while, thinking, "Now what?" Our defenses drop. We look and for once really see what's around us, if only because we no longer have anything to distract us, out here where the sky is huge and rocky cliffs rise in the distance. It's then that the wilderness surprises us. We notice a spring of water coming up from dry ground, a deer leaping for joy, the wind whispering, "What if…?" and "Look!"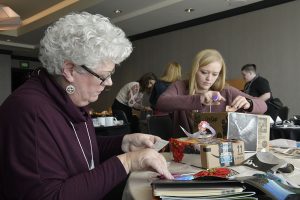 The wilderness surprised me in small ways at the 2018 NEXT Church National Gathering: a corner with pillows for sitting on the floor during keynote and worship, communion stations that seemed to pop up all around the room, roadside markers throughout for us to leave notes or mementos or just things we'd forgotten. The spirituality studio where I played with paper, scissors and glue for a while. As I noticed and explored these treasures of the wilderness, giving my curiosity free reign, I felt my fear and anxiety melt away, becoming humble, open, learning.
I wonder if the church is starting to do this too. I wonder if we're realizing that we have so many wondrous things to learn once we let all our very adult-seeming anxieties go and we fumble around, ask questions, listen, explore, and thereby discover gifts, insights, tools, and beauty that our very self-important gaze, with our very adult-seeming blinders, would have overlooked.
At the Gathering we learned from community organizers, academics, artists, deacons, elders, businesspeople, and musicians in addition to pastors and academics. The Spirit is in the wilderness, stirring up these prophets, apostles and teachers in and beyond our midst. The Spirit is in the wilderness and at the Gathering I saw the inklings of the church stepping out to follow, a child-like and humble church with big eyes and an open heart eager to learn, to try, to wonder, and even to play. I hope the church, that is each of us, follows our childlike curiosity, that we open ourselves to being surprised by each person, ordained or not, churched or not, and by each place where we find ourselves. Then, together with our siblings in all walks of life, we'll wonder at and celebrate and join the Holy Spirit at work all around us.
---

Mads Benishek (he/him/his) is a recent seminary graduate and candidate for ordination in the PC(USA). He also serves on the NEXT Church strategy team. Currently Mads leads an LGBTQ+ dinner church in north-central New Jersey and is starting a young adult group focused on spirituality, the environment, and local food.
https://media.mywtenfold1.com/wp-content/uploads/sites/10/2018/05/29173613/featured-2018-spirituality-studio.jpg
200
398
Linda Kurtz
/wp-content/uploads/sites/10/2016/01/NEXT-Logo-FINAL-Horizontal_lato-1030x229.png
Linda Kurtz
2018-05-30 07:08:09
2018-05-29 10:21:18
Letting Anxiety Go