Each month, we post a series of blogs around a common topic. This month, our blog features reflections on vocation, offered by people who are engaged in ministry and work outside the church. What is God's calling on our lives outside of the church? What is difficult about being Christian in the working world? How do our churches nurture a sense of Christian vocation? We invite you to join the conversation on Facebook and Twitter!
by Deni Pifer
I am an estate attorney. This means I help folks plan for their death. Sometimes they know the end is near. Sometimes it's the distant future– like menopause or old age – though they know it is inevitable, it's not really applicable to them in their minds, not any time soon anyway. On the other side, after someone dies, I remove the burden of paper from the desks of those left behind and lay it heavily on mine – so the living can sleep a little less fretful at night knowing assets will go to their rightful owners. While there is legal work involved, there is also much emotional work. They call attorneys "Counselors at Law" and I find myself wishing I'd had more psychology classes. I also wish I'd paid better attention during the time spent in childhood squirming in the pew while my grandfather rained Bible verses upon his Baptist congregation.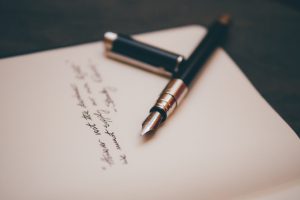 I have clients of many religions and though some speak to me of their God, some do not. I listen when they do but I don't offer advice about God – I just don't have the expertise there. When a client asks me, because they've read my website bio, of my mother dying at the young age of fifty-one from cancer, I answer that my mother knew where she was going, though I am certain she was still afraid. Her death lead me to this role and the ability to provide not just expertise but a strong heart to know when a hug is needed, or simply an understanding nod. They ask me if I'm Christian and I reply yes, though I've had my faith tested and haven't been nor am I now the most faithful.
My faith plays into what I do in ways that surprise me. At times clients fight – often about trivial things: the cuckoo clock that hung over their parents' table growing up or great-grandmother Bertha's silver tray. It's not the monetary value but rather the emotion the object represents which can grow heated, angry and raw. I try to still their anger and show them reason, and I am certain there have been times when only the power of Jesus and Heaven have given me the right words. When they leave the office, I pray and sometimes I cry.
One evening after a particularly contentious day when I knew the next day was going to be just as rough if not worse, while the sun was setting through my daughter's bedroom window, my sweet nine-year-old took my hand and said "Mommy, let's read the Bible together." She promptly and expertly turned her bible to Matthew 6:25-34 and read to me what just happened to be the exact same verses my late mother had highlighted in her old Bible, ending in:
Therefore do not worry about tomorrow, for tomorrow will worry about itself. Today has enough trouble of its own.
Amazing Grace… don't you think?
---

Deni C. Pifer is an attorney who practices in estate planning and estate administration in Charlotte, NC. She is a member of both the NC and SC bars. She is also a wife and mother to a son and a daughter.
https://media.myworshiptimes31.com/wp-content/uploads/sites/55/2016/10/29174949/featured-good-pen-writing.jpg
200
398
Linda Kurtz
/wp-content/uploads/sites/55/2016/01/NEXT-Logo-FINAL-Horizontal_lato-1030x229.png
Linda Kurtz
2016-10-06 12:05:08
2016-10-06 12:05:08
Legal Work, Emotional Work, Faith Work