Each month, we post a series of blogs around a common topic. This month, Kate Morrison is curating a series featuring reflections on Advent and Christmas from our 2018 National Gathering workshop and post-Gathering seminar leaders. Over the course of the month, we'll hear what this season means to them through stories, memories, and favorite traditions – and how they see the themes of Advent connecting with the work of NEXT Church. We invite you to share your own memories and stories on Facebook and Twitter!
Editor's note: Kate is co-leading a post-Gathering seminar (a 24-hour opportunity to dig deeper into a topic, new this year!) called "Beyond the Mission Committee: Re-thinking How Your Church Engages in Local Mission." It will take place from Wednesday afternoon through Thursday morning following the 2018 National Gathering. Learn more and register! 
by Kate Foster Connors
In this season of waiting, I feel impatient.
Congress is a mess. The #metoo movement is only growing, with accounts of sexual harassment and rape coming out daily. Wildfires are burning California – again. Churches are declining and shutting their doors in a steady stream.
This year, the lectionary texts from the first Sunday in Advent feel especially timely. Isaiah pleads with God: "O that you would … make your name known to your adversaries, so that the nations might tremble at your presence!" (Isaiah 64:1-2) And the Psalmist implores, "Stir up your might, and come to save us!" (Psalm 80:2b) Like Isaiah and the Psalmist, I don't feel like we can afford to wait. My prayers lately have been some version of, "How can we WAIT, God? Have you been paying attention to this messed up world?"
It seems fitting that this season of waiting, arriving in a firestorm of brokenness, begins with a call on God to act boldly.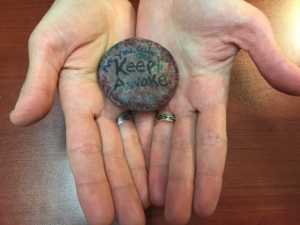 Advent also is the season of getting ready. Advent is the time when we prepare for the coming of Jesus – not the docile baby wrapped in cloths that is depicted in so many children's books and light-up, front lawn nativity scenes, but the justice-seeking Jesus whose mission is to bring radical love for all of God's children. Advent is the time when we prepare for God to upend the world as it is, and usher in the world as it should be.
So although (like Isaiah and the Psalmist) in my prayers I've been pleading with God to please come soon, my prayer this Advent season can't only be about my impatience with God. Preparing for the coming of Jesus means that I have some work to do, too.
I have a rock sitting on my desk. It is almost perfectly round, and is smooth and flat on the front and on the back. I keep it in the most visible place on my desk – next to my phone, and in front of the pictures of my family. Across the top, big and bold in black marker, are these words: "Keep awake."
The Gospel reading from the first Sunday of Advent commands us to "…keep awake…or else he may find you asleep when he comes suddenly. And what I say to you I say to all: Keep awake." (Mark 13:33)
I wrote those words on my rock during Lent a couple years ago, at a prayer station our Christian educator had set up for a Maundy Thursday prayer service. It was a good message for Lent, but I decided to keep it in plain sight all year round, because it keeps me honest. To keep awake, I need to pay attention. To keep awake, I cannot let myself stay in the safe bubble that is easy for a middle-class, white woman to stay within. To keep awake, I cannot stay inside the cocoon of my office, or my house. To keep awake, I need to listen to my neighbors in a city that is both full of life and culture, and that is broken and hurting deeply.
It is easy for me to get stuck in my cry for Jesus to please come soon! I need God to help me keep awake, so that I don't wait (however impatiently) my way through another Advent.
My prayer for the Church this Advent is not all that different: that we all pray urgently for Christ's coming – "come to save us!" – but that we don't get stuck in that prayer – that we don't wait passively – that our churches keep awake to the injustice that is unfolding daily, in our nation, in our states, in our cities and towns, and in our backyards. That we resist the easier path, the one that takes us from our cars in the parking lot to the pews in the sanctuary and back again – and take the more difficult one, the one that takes us out of our church building and into our neighborhoods to find out what's really going on with our neighbors. The path that keeps us awake.
---
Kate Foster Connors is a graduate of Wesleyan University and Columbia Theological Seminary. She has served churches in Memphis, TN, and Baltimore, MD. Currently, Kate is the Director of The Center: Where Compassion Meets Justice, a mission initiative of the Presbytery of Baltimore that hosts church groups for mission experiences in Baltimore. She and her husband, Andrew, have 2 teenage daughters, a cat, and a dog.
https://media.mywtenfold1.com/wp-content/uploads/sites/10/2017/12/29174017/featured-kate-rock.jpg
200
398
Linda Kurtz
/wp-content/uploads/sites/10/2016/01/NEXT-Logo-FINAL-Horizontal_lato-1030x229.png
Linda Kurtz
2017-12-21 14:03:48
2017-12-16 14:06:33
Keep Awake