Each month, we post a series of blogs around a common topic. This month, Kate Morrison is curating a series featuring reflections on Advent and Christmas from our 2018 National Gathering workshop and post-Gathering seminar leaders. Over the course of the month, we'll hear what this season means to them through stories, memories, and favorite traditions – and how they see the themes of Advent connecting with the work of NEXT Church. We invite you to share your own memories and stories on Facebook and Twitter!
Editor's note: LeeAnn is co-leading a post-Gathering seminar (a 24-hour opportunity to dig deeper into a topic, new this year!) called "Manna for the People: Cultivating Creative Resources for Worship in the Wilderness." It will take place from Wednesday afternoon through Thursday morning following the 2018 National Gathering. Learn more and register! 
by LeeAnn Hodges
Years ago a minister friend shared a phrase I that have held onto: "joyfully participate in the sorrows of life." This paradoxical statement has gotten me through a great deal over the years, and speaks to the sort of joy I often find in the midst of advent.
True joy is a way of living that is not dependent upon the external circumstances of our lives and our world. And yet, it takes practice to learn how to embrace joy when things aren't going the way we hoped or expected.
How do we live joyful lives in the midst of the divisions and pain in our world without discounting the suffering that is all too real? One of the more helpful tools I have found to expand my imagination and hold together both joy and sorrow is the practice of improv.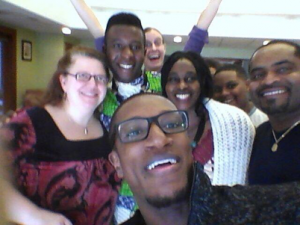 Improv is most often associated with the entertainment industry. But it is so much more than that. It is a practice that expands our ability to imagine and create. With improv we have the entire matrix of the universe from which to draw. With improv, anything is possible. Not even something as constant as gravity is a given. Where else in our lives are we granted the freedom to take our most creative selves out for a test drive?
One basic "rule" of improv is that we use everything. Even our mistakes. Especially our mistakes. The saying goes like this: "There are no mistakes in improv, only unsupported action." With this reframing of our roles, my congregation is invited to become co-creators of the narrative of our community. When it comes to worship, on our better days we wait attentively for the surprising joy in our missteps, as room is created for an experience of the Holy One in what bubbles up through the cracks in our decently in order services. By embracing this posture to worship, I find myself better able to walk faithfully through the messiness of my own life out in the world, witnessing to the ways in which God's grace flows in through the cracks of my own brokenness. And joy is more accessible, even in the most challenging of times.
As I consider the church that is being recreated in the shell of the old, I believe that the practice and play of improv has much to teach us. It is messy work, it is often painful, AND it is joyous.
This year, following the NEXT Church Gathering, I will join two of my more creative colleagues/playmates in offering a post-Gathering seminar where we will use some of these themes of improv to help us engage more deeply with the Eastertide gospel readings. I assure you that there will be a good bit of laughter. And if things go as expected, we will all leave better equipped to joyfully participate in the sorrows of life, guided by the Holy Muse that is at all times working within us and through us, drawing together heaven and earth.
---

LeAnn Hodges is the pastor of Oaklands Presbyterian Church in Laurel, MD and a leadership coach. Her favorite part of her job is hanging out with people, learning their stories, and, if possible, getting in a good belly laugh at least once a day. From those stories, she learns more and more about the depth of God's love made known in Jesus Christ. In her free time… oh, wait – LeAnn has three sons, ages 13, 7, and 5… but when she used to have free time, she enjoyed gardening, knitting, reading mysteries, and watching sci-fi shows with her husband of 23 years (who happens to be a high school physics teacher).
https://media.mywtenfold1.com/wp-content/uploads/sites/10/2017/12/29174019/featured-leeann-hodges-joy.jpg
200
398
Linda Kurtz
/wp-content/uploads/sites/10/2016/01/NEXT-Logo-FINAL-Horizontal_lato-1030x229.png
Linda Kurtz
2017-12-18 07:49:07
2017-12-16 13:49:41
Joy, Sorrow, and Improv