Each month, we post a series of blogs around a common topic. This month, our blog features reflections on vocation, offered by people who are engaged in ministry and work outside the church. What is God's calling on our lives outside of the church? What is difficult about being Christian in the working world? How do our churches nurture a sense of Christian vocation? We invite you to join the conversation on Facebook and Twitter!
by Tanner Pickett
I spent several years dissatisfied with the direction of my career. I was almost consumed with the idea of "doing something else" and was pretty resentful that I couldn't find the meaning in my work. Looking back, I realize that lack of "meaning" had less to do with the actual work than it did with my frame of mind. Perhaps I was precisely where I needed to be, serving the role that I need to serve in that moment.
I recently heard Rob Bell speak about ways to find spirituality in nearly anything. He said, "Faith is doing what you do really well. Ordinary work, interacting in our common life together, that's the 'Holy' thing." Bell uses this presentation to illustrate the deep connection between our faith and every other part of our lives. The more that I think about this concept, the more that I love it. Have you ever seen someone who is really passionate about their work? They seem to find incredible joy and pride in what they're doing. It's a calling. It's beautiful. Bell is suggesting that this is worship. This is one way that we can live out our faith. The ironic thing about my previous work is that I failed to experience the "holy" because I was spent so much energy being resentful at the lack of meaning in that role.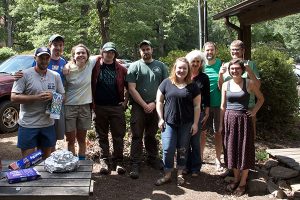 I am happy to say that I am in a role that I feel I was called to and am much happier. I get to promote Montreat Conference Center to people all over country. I have been able to have amazing conversations about faith with people from all walks of life. I get to work with a great team and they are teaching me so much about my own faith and service.
So, how does our faith inform our daily lives? The answer seems simple enough, yet many of us struggle to understand how to do that in a practical way. The Bible is full of examples of God using those in the margins to make an impact on others. I wonder if our "everyday" talents can be used in the same way. Can God use the seemingly unimportant, rote parts of our lives as the instruments to minister to others? I think so. The majority of my career has been in some type of leadership role. So how does my faith influence my role as a leader and manager? Here are a couple of ways:
I think of my faith journey as a form of constant self-development and that is something that I am learning to try to reflect in my work. Isn't that a recurring theme throughout the Bible? We learn something, we pat ourselves on the back, we screw it up, and we get another chance. With every new thing we try, we have a chance to learn something new – even in failure. I think about this in my role as a leader. Do I create space for growth, messing up, and learning? Do I encourage others into that space?

Faith is a form of appreciation. Thinking about my job as a calling helps me have a much different perspective on how those around me do their jobs. Am I supportive or oppositional?
The lesson that I have learned from all of this: The "meaning" in our jobs is less about where we work and more about the way that we view what we are doing. When we view our job as a "holy thing," we are suddenly able to find joy in our conversations, coworkers, and our daily work. How will you celebrate the "holy" in your life?
---

Tanner Pickett is the vice president for Sales, Marketing, and Communication at Montreat Conference Center. He also serves on the Strategy Team for NEXT Church and a member of Black Mountain Presbyterian Church. His most important work is being a husband and a dad.
https://media.mywtenfold1.com/wp-content/uploads/sites/10/2016/10/29174942/featured-tanner-work.jpg
200
398
Linda Kurtz
/wp-content/uploads/sites/10/2016/01/NEXT-Logo-FINAL-Horizontal_lato-1030x229.png
Linda Kurtz
2016-10-19 07:18:36
2016-10-18 14:30:21
Jobs Are a Holy Thing