Each month, we post a series of blogs around a common topic. This month, MaryAnn McKibben Dana is curating reflections from our 2016 National Gathering. Watch this space for thoughts from a wide variety of folks, especially around the question, What "stuck"? What ideas, speakers, workshops or worship services are continuing to work on your heart as you envision "the church that is becoming?" We'll be hearing from ruling elders, teaching elders, seminarians, and more. We invite you to join the conversation on Facebook and Twitter!
by Jeff Bryan
I went to the NEXT Church National Gathering for two reasons: to see old friends, and rob them blind. By see, I mean reconnect, break bread, and revive my soul with the people I hold dear. By rob them, I mean steal their church ideas. I picked pockets all over the National Gathering, particularly the "Faith Formation in Your Family Room" workshop. I swiped every idea Amy Morgan put on the table, praise God. My ministry is better for it.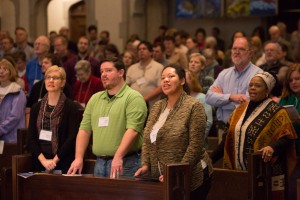 I did not go to NEXT expecting a third thing, my biggest takeaway: white supremacy. For the longest time, I've been trying to wrap my head around America. I've been reading articles, watching documentaries, listening to candidates and congregants and cousins, clenching my teeth. I've been trying to understand my own place in the world as a white, southern, male, Presbyterian, pastor of a "suit and tie" church in the deep south. Let's add some more words to that list: progressive, husband, and father. I came to the NEXT National Gathering with a muddled mind in need of organization. In volleyball terms, Jesus gave me a bump—set—spike.
Allan Boseak's presentation hit me hard. I was struck by his courage, experience, and insistence on justice and restitution. He left me dreaming, "What does restitution look like back in South Carolina?" Bump.
The testimony of Jessica Vazquez Torres completely blew me away. She framed the conversation so thoroughly, and articulated the concept of white supremacy so clearly, I felt relief. It relieved me to hear Ms. Torres pin down the evil behemoth so precisely. Bump, set.
My last workshop was "Engaging the Problem of White Fragility" with J.C. Austin. He further explained white supremacy, listed the ways white people misunderstand racism, led us in a storytelling exercise, and suggested further reading. I followed up with Mr. Austin via email, and he shared an amazing Robin DiAngelo article with me.  Spike.
I am convinced that white supremacy, in all its devilish variations, is the issue of our time. More so, Christ is screaming, calling us into the struggle against it.
When it comes to NEXT, I got what I came for: friendships and fresh ministry ideas. But God gave me all the more: a clearer understanding of myself, my context, and my calling as a pastor. Thank you, NEXT.
---

Jeff Bryan is the Senior Pastor / Head of Staff at Oakland Avenue Presbyterian Church, Rock Hill, SC. Originally from northwest Georgia, he holds degrees from Berry College, Princeton Theological Seminary, and the Lutheran Seminary at Philadelphia. Jeff enjoys family time, basketball, and discovering new music.
https://media.mywtenfold1.com/wp-content/uploads/sites/10/2016/03/29175422/featured-ng-audience-shavon.jpg
200
398
Linda Kurtz
/wp-content/uploads/sites/10/2016/01/NEXT-Logo-FINAL-Horizontal_lato-1030x229.png
Linda Kurtz
2016-03-23 08:42:51
2016-06-13 19:09:59
The Issue of Our Time