Each month, we post a series of blogs around a common topic. This month, we continue to post a series curated by Sarah Dianne Jones and written by our workshop leaders at the 2017 National Gathering. What excites them about the Gathering? What are they looking forward to sharing and discussing during their workshop? We invite you to join the conversation on Facebook and Twitter!
by Matt Moorman
War is sin. Whether it's necessary or just is a different post. Those who've served in the military, and take seriously Jesus' call to love our enemies, fundamentally understand that, whatever the politicians or historians say, war is sin. We begin there: we've all inherited a world at war.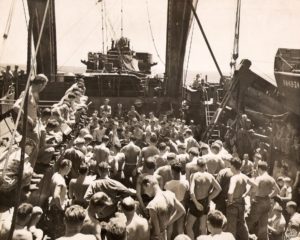 But many of us in the church live as though the world's not at war. There are hosts of human beings suffering through unimaginable violence, oppression and disaster, yet in America, I'm blogging in my socks on the couch. There's nothing inherently wrong with that, of course, but let me pose this question to myself: when was the last time I was willing to suffer for something? Or, more to the point, when was the last time I was aware of the suffering that's already around me? You can bet your ass I'll be in church this Sunday singing about "peace on Earth," though.
I think we avoid suffering because we intuitively know suffering changes us. It's a one-way door. There's no going back to an existence before suffering. I'm OK with some discomfort, as long as I'm on the couch by nine to watch "The Walking Dead." But suffer? I'll pass.
The April 8th, 1966 Time Magazine cover asked, "Is God Dead?" The issue's debate covered the controversial "Death of God" movement of Thomas Altizer and William Hamilton. In March of 1965, the first American ground troops deployed to Vietnam. Until that point, America's national mythology remained relatively intact: we were the "city on the hill," and the omnipotent God was clearly on our side. The God whose death was in question in 1966 was this American God. If there was such a deity, he didn't survive combat in Vietnam.
Chaplain Bill Mahedy said, "For great numbers of veterans, duty in Vietnam was a journey into spiritual darkness–the very darkest night of the soul." And, for most, their faith was destroyed. The God of "Jesus and John Wayne" was either evil or nonexistent, mostly the latter. After the great sin of the Vietnam War, suffering the loss of their faith, they became American scapegoats. For most Americans, the almighty national God was very much alive, so Vietnam wasn't his failure — the soldiers failed. The Vietnam veterans were alienated, and in many ways that's the experience of veterans today.
Veterans don't think they're innocent, because they're not; but many Americans think we're innocent. That's the problem that sent us to war and created the suffering in the world: the God of "Jesus and John Wayne." Perhaps it's time the American church listened to veterans who've fought our wars, who've witnessed the death of this idol. Perhaps it's time the American church suffered the way Jesus calls us to: God-forsaken on a cross. Perhaps then resurrection and repentance will actually mean something.  Until then, we'll suffer through the dark night.
"Radical Theology and the Experience of War and Military Service" is offered on Monday during workshop block 1 of the 2017 National Gathering.
---

Matt Moorman is, among other things, an MDiv student at Union Presbyterian Seminary Charlotte, an inquirer for ordination in the PC(USA), Church Educator at the Church of Reconciliation in Chapel Hill and husband to Emily.  He has worked in the field of youth work and advocacy in some form for over ten years, in places like Raleigh, Philadelphia, and Dublin, Ireland.  In addition, he is an Air Force veteran and serves on the Board of Directors of Centurions Guild, an education and advocacy organization committed to resourcing church leaders for ministry with veterans and service members of faith.
https://media.myworshiptimes31.com/wp-content/uploads/sites/55/2017/01/29174809/featured-soldiers.jpg
200
398
Linda Kurtz
/wp-content/uploads/sites/55/2016/01/NEXT-Logo-FINAL-Horizontal_lato-1030x229.png
Linda Kurtz
2017-01-09 12:10:25
2017-01-09 12:12:30
Into the Night