Each month, we post a series of blogs around a common topic. This month, Ellen Crawford True is curating reflections on intergenerational ministry. What does it look like for the church to do and be church together? What does it feel like to understand ourselves as vital parts of the body? What can it mean to seek to be faithful as children of God together, no matter what comes next? We invite you to join the conversation on Facebook and Twitter!
by Kyle Anderson
For me, with an undergraduate degree and a decade of vocational experience in youth ministry, the idea of intergenerational ministry seems commonplace. For anyone with a background in youth ministry, it is almost assumed that intergenerational ministry is the way to do youth ministry.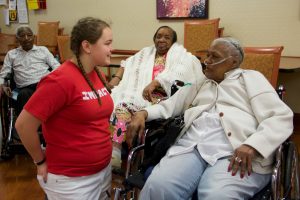 Before I began seminary and while I was working at my last church, the Fuller Youth Institute at Fuller Theological Seminary published their research entitled Sticky Faith. The concern of the research was creating a faith that "sticks" once students graduate from high school and transition on from our youth ministries. Intergenerational ministry – the pairing of students with spiritually mature adults from the congregation – was one of the things which helped to contribute to sticky faith. In fact, the idea of adult mentorship within the congregation becomes one of the three sticky faith pillars.
As someone who was paid to do youth ministry (i.e. looking for results), this was exactly the kind of resource I was looking for! And it really is great. I'd recommend their books and resources to every congregation, pastor, youth worker, and parent out there (stickyfaith.org).
But what is it about intergenerational ministry that works? In the context of youth ministry, I think intergenerational ministry has become a tool or a resource to be used towards a greater end. When we do this, I think we are missing two theologically significant truths about the church and ministry.
Our ministries in the world are only truly ministry if they are connected to God's larger act of ministry. In other words, we are not the "doers" of ministry.

We are invited into participation in something that God is already doing in our congregations, communities, and the world. We cannot simply apply a particular methodology to a ministry and expect a particular outcome; God doesn't work that way. This is what Peter rebukes Simon the magician for in Acts 8. Simon offers Peter and John money to teach him how to impart the Holy Spirit and perform miracles.

The youth ministry isn't simply a sub group that will become the church in the future. In fact we need our young people – their ideas, opinions, perspectives, leadership – if we are truly to be the church. Think of the relationship between Samuel and Eli in 1 Samuel 3: Samuel had this experience with God that Eli did not. However, Samuel needed Eli's help in interpreting God's message to him. It was by neither of their efforts alone, but rather in their coming together, as equals, that the fullness of God's revelation was revealed.
When we view intergenerational ministry as a tool to be implemented toward a greater end, we are missing the theological profundity of exactly what is happening. Intergenerational ministry doesn't work because we "do" it well, but rather because it represents a truer, deeper, more profound sense of what God has created the church to be. I'd suggest that intergenerational ministry isn't simply a resource, but rather it is the context, very place that God is at work within the church. I think this is the essence of NEXT Church, to engage this theological nuance in such a way that sparks imagination and creativity regarding new ways of being the church in our communities and the world.
The Book of Order puts it this way (which I love!): the polity of the PCUSA "presupposes the fellowship of women, men, and children united in covenant relationship with one another and with God through Jesus Christ. The organization rests on the fellowship and is not designed to work without trust and love." (G-1.0102) (emphasis added)
NEXT Church is about being willing to risk everything for the sake of love of God and neighbor. When we reflect on intergenerational ministry it means letting go. It means providing a space for all, women, men, and children, in a meaningful way. It means moving from a model of assimilation to a model of mentorship. And for some (perhaps most) this is a radical redefining of what it means to be the church.
---

Kyle Anderson loves the church and working with students, and likes to play golf, travel, and take photos. Kyle lives in Princeton, NJ, with his wife and son where he is currently pursuing his MDiv at Princeton Theological Seminary.
https://media.myworshiptimes31.com/wp-content/uploads/sites/55/2016/05/29175205/featured-michelle-intergen.jpg
200
398
Linda Kurtz
/wp-content/uploads/sites/55/2016/01/NEXT-Logo-FINAL-Horizontal_lato-1030x229.png
Linda Kurtz
2016-05-09 10:56:29
2016-06-13 19:07:51
Intergenerational Ministry: Not Just for Youth Ministry Anymore