Each month, we post a series of blogs around a common topic. This month, Linda Kurtz is curating a series we're affectionately referring to as our NEXT Church book club, which aims to share insights on a variety of texts – and how they have impacted our bloggers' ministries. Understanding that reading in and beyond one's field is important to offering good leadership, we offer this series to get your juices flowing on what books you might read next. What are you reading that's impacting how you think about and/or do ministry? We invite you to join the conversation on Facebook and Twitter!
by Essie Koenig-Reinke
I was eager to read Erin and Ben Napier's recent memoir Make Something Good Today when it finally hit the shelf at my local bookstore. The book's pages are like a dirt road that winds its way through Erin and Ben's lives from the time they were growing up to the front porch of their home today. It's beautiful, honest, and real in a way most memoirs are. It's the kind of book that is meant to be read on the front porch with a cup of coffee, and sunshine. In short, Make Something Good Today is lighthearted, but through the telling of their own story the authors invite readers to gently ponder their own.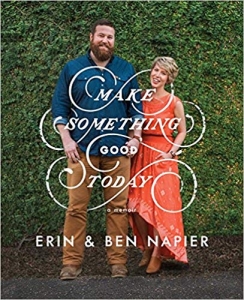 There is a part in this book where Erin gets real about life, work, love, and anxiety, and how it affects her ability to connect with her sense of call. She names the vague yet poignant, messiness of life, as well as the impact of how much her anxiety and worry were having on her daily life. Then she started a journal, where she blogged one good thing that happened during the day. No matter how wonderful or awful her day was, she blogged about one good thing. This is the practice changed how she saw herself and the world around her.
I am currently serving as an interim coordinator of youth ministry. Nothing has quite prepared me for all the weird and wonderful things about this job. Most days, I love it. It's messy and magical. However, there are times when being in an interim time is just plain hard. Sometimes, the mess feels less magical and more monstrous. In this liminal space, I've noticed how easy it can be for anxiety and worry to weave themselves into the conversation. It's almost natural. Then before we know it, we're teetering on the fence between feeling indecisive and overwhelmed. I found myself resonating with Erin as she unpacked all of these things in her book. So, as I soaked up the words in Make Something Good Today, I found myself taking a step back from all the worry and reflecting on all the good around me. I even made the decision about being intentional about pointing out the good.
By doing so, the joy and goodness in my life and ministry became tangible. Whether writing it down in a notebook or making a mental note good things that are happening. Our youth ministry has also started to notice the joy around too. It was as almost as if by paying attention to the good around us, we were more present with each other. We listen deeper, and are finding ourselves more open to the movement of the spirit together. It's exciting, and energizing, and holy.
This has by no means has fixed all the overwhelming, anxious feelings. However, acknowledging the good has empowered me to cultivate joy in this liminal space, and be more present in this "in between" moment, both in my own personal journey and in our ministry. It is so easy to get caught up in the next season, the next program, and forget to hold on to joy found in every day good things.
---

Essie is the Youth Ministries Coordinator at First Presbyterian Church of Ann Arbor. She sees herself as a recovering perfectionist and on the lookout for an overachiever's support group. She loves coffee, lavender, mystery books, and sunflowers.
https://media.mywtenfold1.com/wp-content/uploads/sites/10/2019/02/29173007/featured-journaling.jpg
200
398
Linda Kurtz
/wp-content/uploads/sites/10/2016/01/NEXT-Logo-FINAL-Horizontal_lato-1030x229.png
Linda Kurtz
2019-02-20 06:55:36
2019-02-05 21:05:08
Intentional about the Good