Each month, we post a series of blogs around a common topic. This month, Rev. Ken D. Fuquay is curating a series featuring an eclectic group of voices responding to the question, "Does church matter? And if it matters, how, and if it does not, why?" Some of the voices speak from the center of the PC(USA); others stand on the periphery. One or two of the voices come from other denominations while some speak to us from the wilderness and barren places. "To every age, Christ dies anew and is resurrected within the imagination of humans." These voices are stirring up that imagination in their own way. May your imagination be stirred as you consider their insight. We invite you to join the conversation on Facebook and Twitter!
by Brett Foote
Ever since I was welcomed into the Presbyterian Church (USA) as a 5th grader I have encountered the words "inclusion" and "inclusive"… a lot. As someone who has a brother affected by a cognitive disability and a mom who struggles with addiction and mental illness, these words meant good news and hope for my family. However, as I committed myself to studying the disciplines of disability studies, disability theology, and ministry with people with disabilities, I discovered these words were actually lacking depth. A colleague and friend, JJ Flag, who happens to have been born with cerebral palsy and requires a wheelchair to get around, shared this story with me recently and I believe it is illuminating.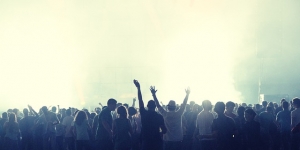 JJ shared that growing up in his local church, there was no way for him to access the sanctuary for services because all of the ways into the sanctuary required stairs. Therefore, every Sunday he would get carried into the sanctuary by family or church members. This went on for a long time until one Sunday he noticed that they finally installed an elevator in the church. JJ was quite relieved to see the elevator, as in his mind, a barrier had been removed from in front of him to access the church. The worship space became accessible and therefore inclusive of him and his body. However, the pastor shared that JJ was more than welcome to use the elevator to get around but the reason they purchased the elevator wasn't to include JJ. The congregation was an aging one so instead, the elevators purpose was to help alleviate the burden on their older members from the moving of coffins before and after funeral services.
An accessibility barrier was removed for JJ and because of that the church was for the most part, fully accessible for a person in a wheelchair. For JJ, the church and specifically worship, became inclusive of his body. Still, even with the accessibility and worship inclusion issues removed something was missing for him. JJ shares that even though there were no physical barriers in his way anymore, there was no love shown to him in the decision to install elevators.1 Likewise, there was no relationship to anyone in the church with him that brought that elevator into being. Love and relationship is where inclusion stops and discipleship begins. Through JJ's story it is easy to understand how even though access provided inclusion there was still a sustained ostracism of the differently-abled through a lack of love.
The central mission of the church as stated in the PC(USA)'s Book of Order is: "in Christ, the Church participates in God's mission for the transformation of creation and humanity by proclaiming to all people the good news of God's love, offering to all people the grace of God at font and table, and calling all people to discipleship in Christ." (emphasis added) It is also lifted up to the church in the Great Commission: "And Jesus came and said to them, 'Go therefore and make disciples of all nations, baptizing them in the name of the Father and of the Son and of the Holy Spirit.'"(Matthew 28:18-19 NRSV)
The mission imparted to Christians by Jesus is this act of discipleship of others, not just shared space for inclusivity and accessibility. In fact, Dr. John Swinton, writes that "Christian communities are not called simply to include people with disabilities; they may be obligated by law to do so, but this is not the nature or texture of their" mission.2 Therefore, it can be concluded that a Christian community is not built on including people for the sake of including them. Instead, the mission of the Christian community "is to learn to love God, and in coming to love God, learn what it means to love and to receive love from all of its members."3 Love is the primary mark of a disciple and characterizes how disciples act towards others. Jesus is attributed to having said "By this all will know that you are my disciples, if you have love." (John 13:35 NRSV) Loving "is what disciples do, and that is what disciples expect other disciples to do."4
Inclusivity has to do with access for all people…Discipleship has to do with love for all people rooted in access for all people which makes our spaces inclusive of all people.
1 Flag, JJ. Personal interview. 03/05/2018. Story shared with permission.
2 Swinton, John. Becoming Friends Of Time: Disability, Timefullness, and Gentle Discipleship. 93
3 Ibid.
4 Ibid.
---
Brett Foote is a recent graduate of Princeton Theological Seminary and freshly ordained as Minister of Word & Sacrament in the PC(USA). Brett and his wife Laura have accepted a call to pastor United Presbyterian Church in Superior Wisconsin. They are avid coffee roasters and have a heart for inclusion and holistic ministry—especially toward those with intellectual and developmental disabilities.
https://media.mywtenfold1.com/wp-content/uploads/sites/10/2019/06/29172726/featured-crowd-smoke.jpg
200
398
Linda Kurtz
/wp-content/uploads/sites/10/2016/01/NEXT-Logo-FINAL-Horizontal_lato-1030x229.png
Linda Kurtz
2019-06-18 06:19:45
2019-06-16 12:24:36
Inclusion Through Access: Discipleship in Love