Each month, we post a series of blogs around a common topic. This month, Tanner Pickett and Elizabeth Link are curating a series that will reflect experiences of those in the beginnings of their ministry, particularly through the lens of Trent@Montreat. Over the course of the month, we'll hear reflections from past and future participants, track leaders, and members of the leadership team of Trent@Montreat. We hope these stories will encourage you along your journey – and maybe encourage you to join us next April! We invite you to share your own thoughts on Facebook and Twitter!
by Agnes Norfleet
When I came home after serving on the leadership team of the first Trent@Montreat conference in Montreat, my husband said, "I have not heard you sound so excited and hopeful about the church in a long time."
Since I was ordained 30 years ago I've witnessed a lot of change and observed some decline in denominational vitality. While we've debated important issues, congregations have lost members and presbyteries have lost churches. Outside research shows that fewer people are loyal to all manner of institutions, including the church; inside the church evangelism, member engagement and stewardship are increasingly challenging. During the course of my ministry, the definition of "active" member has changed from a person being in church most Sundays to one who attends worship once or twice a month. Both polling data and pastoral experience have shown some measurable decline.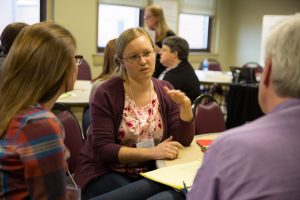 The good news is the vitality of the church is not based upon statistics! The Trent@Montreat conference reaffirmed that reality for me in some fresh ways by gathering together people who love God and serve the church, who want to be in conversation about creative engagement during these changing church realities, and who have high hopes for the future.
The targeted audience for the 2016 conference was a younger group of pastors, about five years out of seminary. Participants chose a particular track among several options to work on best practices for ministry, but plenary sessions and worship gave all participants some flavor of the variety of offerings. Worship was joyful, meals were occasions to make new friends, and there was plenty of downtime to connect with folks informally to talk about ministry and life in general.
The irony of being a pastor is that while we are surrounded by people, it can be lonely work. We are entrusted with people's secrets. We help shoulder many burdens. Much of preaching and teaching, pastoral care and administration, requires preparation alone. It is important for all of us who do this work to nurture our interior lives with collegial friendships and conversation.
I was privileged to be part of the leadership team as convener of the preaching track. My hope for the mission of the church was buoyed by being with younger pastoral colleagues for a week, hearing about their commitment as disciples of Christ in varied contexts of doing ministry, and sharing some of the challenges of this exhausting, energizing, and creative calling. Conversation flowed openly and honestly in what felt like a safe space.
I trust that Trent@Montreat 2018 will again offer wonderful ways – in a beautiful place – to nurture pastoral ministry among people who love God, serve the church, want to be creatively engaged in ministry, and who have hope for the future! I look forward to being on the leadership team again and I hope you will consider attending!
---

Agnes W. Norfleet is pastor of Bryn Mawr Presbyterian Church in Bryn Mawr, PA, since January, 2013, having previously served churches in Columbia, SC, Decatur, GA, and Atlanta, GA. She is a graduate of Davidson College and Union Theological Seminary in Richmond, VA, and received her doctor of ministry degree in Bible and preaching from Columbia Theological Seminary. Agnes has sermons and articles published in The Abingdon Women's Preaching Annual, The Presbyterian Outlook, Interpretation: A Journal for Bible and Theology, Lectionary Homiletics, and is a regular contributor and associate editor of Journal for Preachers. An early organizer of NEXT Church, Agnes has enjoyed serving the denomination as guest preacher for many special occasions and conferences, led a track in 2016 for the Trent@Montreat conference, and is currently a Trustee of Union Presbyterian Seminary.
https://media.myworshiptimes31.com/wp-content/uploads/sites/55/2017/11/29174104/featured-young-discussion.jpg
200
398
Linda Kurtz
/wp-content/uploads/sites/55/2016/01/NEXT-Logo-FINAL-Horizontal_lato-1030x229.png
Linda Kurtz
2017-11-07 09:57:02
2017-12-05 10:19:55
High Hopes for the Future