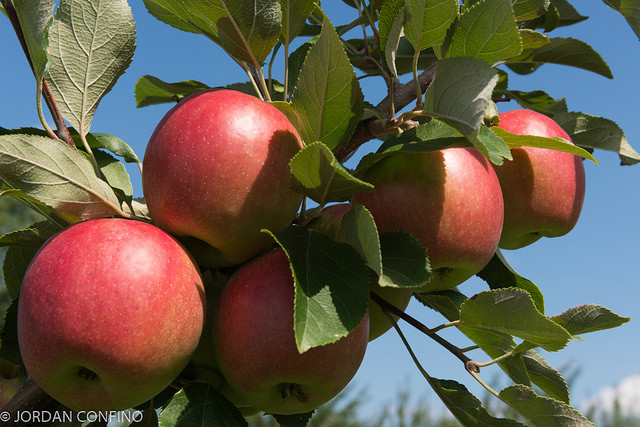 This month, we're sharing reflections from a group of pastors from the US and the Church of Scotland who recently met to talk about being the faithful church in a culture that is becoming more diverse and more secularized. We invite you to offer your thoughts in comments, on our Facebook page, or contact us here. If you like what you read, subscribe to our blog (enter your email on the right sidebar) and receive an email when there is a new blog article. 
By Eileen Miller, Church of Scotland
This year, for the first time ever, the apple tree in the corner of our garden produced apples! As someone who does not have 'green fingers' and is a bit of a novice in all things horticultural, I was so surprised that a tree which I had planted 5 years ago was producing fruit at all, never mind, producing a bumper crop of apples.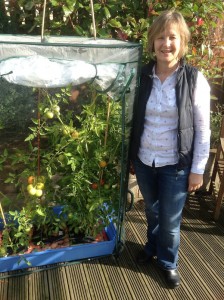 The truth is that I had little expectation about its fruitfulness possibly because in the previous four years there had been no sign at all of an apple. Meanwhile, the surprise was compounded by the fact that my attention was focussed on a harvest coming from a different part of our garden. In the spring, I had planted two small tomato plants and a pepper plant in a small greenhouse structure on our patio. I had been carefully watering, feeding and attending to these plants on a daily basis and even when we went on holiday, a kind neighbour took over watering them. My family and I were delighted to observe the rapid growth of the two tomato plants although the pepper plant did not flourish. We watched as the yellow flowers made way for small green tomatoes and delighted as they grew bigger and started to redden. Fruit was growing in our garden for the first time, tomatoes from plants that were carefully planted and attended to.
At the same time, and growing unnoticed, were apples on the tree in the corner at the edge of my garden. The tree was producing fruit, without any effort on my part, other than a severe pruning last winter. This was a reminder to me that it is God who causes the harvest to grow (Isaiah 55: 10-11) especially when I am tempted to think it is my own efforts that causes growth and flourishing, both horticulturally speaking and spiritually speaking! Sometimes the growth can happen in unexpected places and at unexpected times. Even in our churches, we can find growth and flourishing happening in surprising places and at unexpected times.
A few weeks ago, I was part of the Scotland Connection gathering in Kirkcaldy, Scotland where 12 pastors from the PC(USA) and 12 from the Church of Scotland met to share experience and to envision what the Church may look like in the future. The focus of the conference was the book by Diana Butler Bass' entitled "Christianity after Religion: the end of the church and the birth of a new spiritual awakening". The conference was led by Diana and Doug Gay, a Church of Scotland minister and lecturer at Glasgow University. We were asking where the growth and flourishing is in the Church at a time when statistics about the decline in church membership in the Church of Scotland makes bleak reading. The number of members in the Church of Scotland has halved in the last 30 years and the Presbyterian Church in the USA is beginning to experience decline, albeit not to the same extent as in Scotland.
As a Probationary Minister preparing to be inducted and ordained within the Church of Scotland, I have been looking around asking 'where are the fruits of growth in the Church?' and 'where are the communities of faith that are flourishing?' During this past year, I have been surprised by growth in unusual places in the Church. Growth on the edges, in unexpected places and with unexpected people.
An example would be Messy Church events where families who come along on a Sunday afternoon with their children for an afternoon of messy crafts around a Bible story theme, which also includes a short time of worship and a meal together. Many of these families are not members of the church but in this setting, there is a growing sense of community.
And then there is the meal every Wednesday night in the church hall, organised and prepared by another small group of people, for people in the local community who are dealing with issues connected to homelessness. Many have issues with drugs or alcohol.   Growth on the edge, in unexpected places, as the church extends hospitality in the name of Christ and relationships develop.
Also, there is the group of adults of all ages and all abilities who meet monthly for a special worship service which offers creative worship suitable for those with learning disabilities. This also includes making crafts, creative and visual illustrations of Bible stories, drama, music and, of course, sharing food together is also an important part of this community. Growth on the edges, on a Thursday night rather than a Sunday, although some of this group also come to church on Sunday.
Another group of volunteers welcomes between 50 – 70 mainly retired people from the community together for a few hours to share tea/coffee and cakes and chat and sometimes there is some musical entertainment. Many of those who come to this afternoon tea have been invited by people in the church and many are those who have lost their connection to the church for one reason or another and through this, people have renewed their connection with each other and the church. Potential for growth on the edges, as those who have lost a connection with the church find a way back in albeit for a social afternoon.
It seems to me that the growth and flourishing I have been witnessing is coming from projects and groups that offer a place to develop relationships and make connections; either renewing old relationships or making new ones. The groups I mention are meeting in the settings of Kennoway, Windygates and Balgonie: St Kenneth's but there will be a diverse variety of other communities or potential communities ready to form in different contexts, in other churches everywhere! It struck me that the thing that all of the projects I mentioned have in common is food! Hospitality and enjoying a meal together were key features of early church's ministry and mission and I suspect they provide a key to mission in our own contexts.
Many of those who come will not be reflected in membership statistics as they may not have joined the church. The groups often take place at times other than on a Sunday morning and therefore the participation of many in the life of the church is not reflected in statistics of membership or attendance. Therefore, statistics alone cannot provide an accurate reflection of the health, growth and flourishing of the Church. Let's look for the growth on the edges, discerning where God is causing his Word to grow, remembering God is a God of surprises who is committed to building his church (Matthew 16:18) and who causes growth and flourishing in unexpected places by His grace and mercy.
Eileen Miller has worked in the fields of community education and counselling for many years and is a senior accredited counsellor with the British Association for Counselling and Psychotherapy. Her growing edge has been following a call into ministry and, after 5 years of training, she is about to be ordained and inducted into a church within the Church of Scotland.
https://media.mywtenfold1.com/wp-content/uploads/sites/10/2014/09/29180302/apples.jpg
427
640
Jessica Tate
/wp-content/uploads/sites/10/2016/01/NEXT-Logo-FINAL-Horizontal_lato-1030x229.png
Jessica Tate
2014-09-11 06:36:49
2016-02-18 14:06:42
Growth on the Edges