by Victoria Barner
Question: Can you find yourself in my story?
I was nine years old when I first got acquainted with the term "Christian." Used to going to a cathedral for a church, attending church in an ordinary old building with a married white woman serving as the "priest," was very novel to me. People joyfully singing worship songs and telling stories about how the Lord Jesus had helped them in their daily lives were all alien to me, yet got me curious and interested. It was also the first time that I heard about Jesus and that He was the Way, the Truth, and the Life (whatever that meant). My mother and I had always been devotees of the Mother of Perpetual Help. It was to her that we came whenever we needed help. This new church taught us that it was to Jesus that we should come because He is God. And, very important to my young mind, was the lesson to say "in Jesus' name," whenever I was afraid.
My favorite new experience was Sunday School. I liked our very animated teacher, so I always looked forward to Sunday School. The biblical characters excited me like they were my new kind of superheroes.
Unfortunately, not too long afterwards, my father bought a piece of land and transplanted us from a metropolitan city to a virgin forest. Our little hut was in a little clearing and there were lots of big monkeys, big birds, and huge trees. There were no neighbors, and there were no other children to play with. My siblings and I (all seven of us) learned to play with one another.
Our father was scarcely home as he was a local businessman who traveled a lot. We had no house help, so, despite my young age, I became the housemaid. Mother was not the loving mother like those portrayed on TV. She was very strict and very mean – verbally and physically.
Early in life, I thirsted for love. I thirsted for the God that that new church cared for us. But I didn't know how I could reach Him. My exposure to that strange church was very short. I longed to find Him and wished that I knew where to start my quest. But, alas, I was just a little girl, and a pushover at that.
Tragedy came early. My parents separated and a 12-year-old sibling died. My mother left us taking only her youngest child with her. Father took us back to the big city.
Fast forward – I was 16 years old and was now about to graduate from high school. High school was no fun, as far as my social life was concerned. Extremely shy and easily intimated, I was an easy prey for bullies, even in the Christian school I was attending. My parents' separation was a big scandal. People in church talked about us even within our hearing distance. As a result, I had no close friends. I buried myself in books and always turned to God for comfort. Early on, my father had asked me to memorize Psalm 23 and to this day, it is my favorite passage.
"I would like to be a lawyer or a journalist," I told my teachers, who, by the way, were very nice to me. But God seemed to have another plan. One night, Jesus visited me in a dream. I did not see His face, but for some strange reason, I knew it was Him. I was lying on my bed when He came and told me to follow Him. I did. We came to a hill teeming with people coming from different nations. Then He gestured towards them and said to me, "Preach the Word!"
I woke up pondering the dream in my heart. It was more because Jesus visited me in my dream that I felt some kind of awe, but I did not share it with anyone. I worried they might think I'm being "holier-than-thou." And I did not put any weight on what He said. It was just a dream, after all.
"Your dad told us you're going to be a pastor! You'd make a good pastor," many of my dad's church friends started telling me.
My dad wanted my older brother to be an electrical engineer, but he wanted me to be just a pastor without even asking me if I wanted to be one. I was so mad! It was favoritism at its worst, was how I looked at it.
What do you think?
---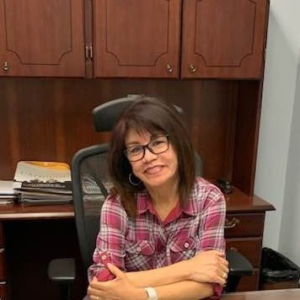 Victoria Barner is a Commissioned Lay Pastor. She graduated with her M.Div from Fuller Theological Seminary in 2014, but because she still works full time, she has not been able to complete the Clinical Pastoral Education requirement for ordination in the PC(USA). She says that that's okay because it keeps her humble. Currently, she works as an Executive Assistant to the Director of Information Technology Department of the City of Costa Mesa, California.
Victoria is also a part of the NEXT Church blogging cohort and her writing focuses on the personal God. 
https://media.mywtenfold1.com/wp-content/uploads/sites/10/2020/05/22083236/jenny-caywood-GtPiAs0grKE-unsplash-scaled-e1608492052165.jpg
533
800
Layton Williams
/wp-content/uploads/sites/10/2016/01/NEXT-Logo-FINAL-Horizontal_lato-1030x229.png
Layton Williams
2020-05-22 08:33:26
2020-05-22 08:33:26
God and My Journey