Each month, we post a series of blogs around a common topic. This month, Jessica Tate and Linda Kurtz are curating a series written by participants in the first-ever Certificate in Community Organizing and Congregational Leadership offered by NEXT Church, Johnson C. Smith Theological Seminary, and Metro Industrial Areas Foundation. You'll hear from clergy, lay people, community leaders, and others reflect on the theology of power and how organizing has impacted the way they do ministry. How might you incorporate these principles of organizing into your own work? What is your reaction to their reflections? We invite you to join the conversation on Facebook and Twitter! 
by Mary Harris Todd
A sermon for Morton Presbyterian Church in Rocky Mount, NC. Scripture: Mark 1:29-39.
Jesus really did not cover a lot of distance during his ministry. He spent most of his time in the region of Galilee, an area about the size of two or three North Carolina counties, maybe Nash, Edgecombe, and Wilson.1
The region of Galilee was dotted with about two hundred villages, some larger, and some smaller, and to get from one to another you walked. Think about the old days when people around here used to walk up and down this road, visiting neighbors, and walking to school at Joyner's Schoolhouse, which was across the road from where we are this morning — and it was the building in which Morton Church got its start. Picture what it would be like to walk from Easonburg to Langley's Crossroads, and that's a picture of the kind of traveling that Jesus did.
Capernaum, and specifically Peter's house in Capernaum, was Jesus' home base in Galilee. Located on the north shore of the Sea of Galilee, Capernaum was more what we would call a small town, maybe 1500 residents. It was a center for the fishing industry. Jesus would go places, and then he would come home to Capernaum.
The story we read from Mark this morning took place very early in Jesus' ministry. It didn't take long for word to get around town that Jesus had healed Peter's mother-in-law from a dangerous fever. "Did you hear what happened at Peter's house?" By evening excited kinfolk and friends crowded around and into Peter's house, and Jesus healed many more who were sick or in the clutches of demons. No wonder Jesus went off alone for rest and prayer.
When they realized he was gone, Peter and his companions went looking for Jesus. "Everyone is searching for you!" they exclaimed when they found him. Jesus needed to come on back to the house and get back to work. There was so much more that needed doing right there at home at Peter's house!
But Jesus said, "Let's also go on to the neighboring villages so that I can proclaim the good news there, too. That's why I came." Yes, Jesus loved the members of Peter's household, and his family and friends in Capernaum. But Jesus was also concerned about other neighbors and other neighborhoods. His concern reached to the ends of the earth. "Let's go to the neighboring villages also," he told his disciples. And before it was all over, Jesus was going to send them on to the ends of the earth.
Mark doesn't tell us how Peter and the others reacted to Jesus' plan to visit neighboring villages and interact with other people, but if they were anything like the members of Peter's household now — the church — I think they might have been dismayed. How can Jesus suggest reaching out to others when there is still so much to do right here? Shouldn't we take care of the needs at home in Capernaum first? Shouldn't Jesus give them his attention first? Besides, surely people out there will hear about the wonderful things happening here and come join us!
But reaching the ends of the earth has always been God's intention. Early in Genesis2 God called Abraham and Sarah to leave home, to move outward, and God plainly stated, "I am going to bless you. You are going to have a lot of descendants, and your family is going to be a blessing to all the families of the earth." Abraham and Sarah got up and went. This is all the more remarkable because they were 75 and 65 years old respectively, and they had never been able to have any children.
Through the prophet Isaiah God reiterated that concern as we read in our call to worship today: "I want my salvation, my blessing to reach to the ends of the earth," God said.3
When God's people were in exile in the city of Babylon and filled with homesickness, God told them to be a blessing right where they were, to their Babylonian neighbors. Through the prophet Jeremiah God told them, "Seek the wellbeing of the city where I have sent you, for in its wellbeing you will find your own."4
Or as Jesus put it, "You are going to be my witnesses in Jerusalem, and in all Judea, and to the ends of the earth."5
And, as in today's gospel lesson, the ends of the earth aren't always far away. "We must go on to neighboring villages," Jesus said. "Let's take the message to the neighbors."
We live in an age where you can get on a jet and fly to the ends of the earth, and yet not know your next door neighbor, even by sight. People often live in side-by-side isolation. It used to be that almost every house had a front porch, an in-between kind of space where people could sit and talk and watch the world go by. Porches helped neighbors see one another and talk more often. Now back decks and privacy fences outnumber porches. People stay inside in the air conditioning and watch TV or stay on the internet, and family members might all be doing this in different rooms.
What's more, cars make it fast and easy to go somewhere else to work or shop, and not pay that much attention to the neighborhood. And that makes it easy for things to happen behind closed doors without anyone nearby knowing it. No, the ends of the earth aren't far away at all.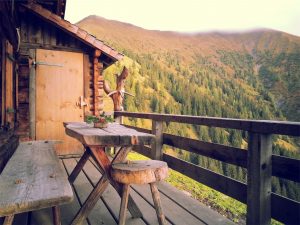 I read a blog post entitled "7 Reasons Your Church Should Have a Front Porch."6 Our church building does have a front porch, so when I saw the title, I immediately imagined rocking chairs on the church front porch, and us sitting out there visiting and having Bible study. A very pleasant scene.
But that's not the author's point. Front porch is a way of thinking. It's an outlook. He says that front porch oriented churches have their eyes on the neighborhood. They spend time getting to know their neighbors, and letting the neighbors get to know them. Contrast this with backyard-oriented churches that are looking away from the neighborhood, or only looking inward.
Front porch churches listen to the neighbors. They want to be neighborly right there in the neighborhood where God has placed them. The post asks, "Does your church know its neighborhood well enough to know its urgent and persistent needs? Has the church developed trusting friendships that are there in times of need?"
Jesus said, "Let's go also to the neighboring villages." This is a call to listen to people, to listen for what is going on around here. And as we listen to our neighbors' concerns, we will hear what God is concerned about. We will discover what God is up to. Eventually we will discover ways to get in there to work with God, and work with our neighbors.
What it's not about is blanketing the area with flyers inviting people to come here and join us in what we are doing. It's not about going around announcing our point of view or presenting a set of arguments we want to convince people of. I can hardly think of anything less appealing, and if that were our agenda, I wouldn't blame people for hiding in their houses when they saw us coming.
What's more, it's also not about recruiting new blood for the church, and it doesn't make people into mission projects. It's not about dreaming up some program we think people need or developing a hook to get people to come through the doors. It values people around here just because they are here. It's about seeing people through God's eyes and listening to them through God's ears.
The community organizing training that I started in Baltimore last fall is continuing, and we constantly talk about building relationships. There is power in making connections with people, building relationships, and then taking action together. A critical part of it is to spend time talking one on one with people, listening, sharing stories, finding out what's important to them, what makes them tick.
In community organizing work they call these visits relational meetings. But to me, they sound a lot like good old front porch visiting, good conversation in that in-between front porch space where connections can happen, and sometimes grow deep.
God has richly blessed the family of faith that gathers in this house. And like all sons and daughters of Abraham and Sarah, God calls this family to be a blessing. We could stay home in Capernaum, spend most of our time hanging out with each other here in Peter's house, or we can visit neighboring villages with Jesus. We can stay inside, or we can find a way to get out on the front porch and spend time talking with neighbors. We can sit around and worry about our own wellbeing, or we can connect with neighbors and in their wellbeing find our own.
We can literally visit people with Jesus. Think about where our neighborhoods are. Think about where our homes are. There's this little section of West Mount Drive right out in front of the church house. There's Leaston Road down at the corner, and the trailer park there. There's the Vick path. There's the village on Great Branch Drive. And there are more. These are some of our neighboring villages. God has placed us here geographically. And God has placed us in workplaces and in different kinds of groups. These are neighborhoods, too. We can find out what brought these people to these neighborhoods, and what they're concerned about, and what they need and hope for.
This is the place, and these are the places where God has planted us. These are the people we are called to listen to. These are the people we are called to love. Front porch churches are concerned about our neighbors because Jesus is concerned about them. "Let's go to the neighboring villages also," Jesus said. "I want to proclaim the kingdom there, too."
Or as he puts it in another place, "You shall love your neighbor as yourself." Which also means, you shall love your neighborhood.
Amen.
1 Nash is our congregation's home county. Nash, Edgecombe, and Wilson are the tri-county area that the congregation knows well.
2 Genesis 12:1-5a.
3 Isaiah 49:6.
4 Jeremiah 29:7.
5 Acts 1:8.
6 http://after.church/7-reasons-your-church-should-have-a-front-porch/.
Editor's update: We're gearing up for our second community organizing cohort, which gets kicked off in late October 2018. We hope you'll join us! 
---

Mary Harris Todd  has been a Presbyterian all her life.  She grew up in one small congregation, Kirk O'Cliff Presbyterian Church near Mineral, Virginia, and since 1990 she has served as the pastor of another, Morton Presbyterian Church in Rocky Mount, North Carolina. Visit with Mary and her flock online at The Mustard Seed Journal, where you can find lots of resources for small church ministry.
https://media.mywtenfold1.com/wp-content/uploads/sites/10/2018/03/29173722/featured-porch.jpg
200
398
Linda Kurtz
/wp-content/uploads/sites/10/2016/01/NEXT-Logo-FINAL-Horizontal_lato-1030x229.png
Linda Kurtz
2018-04-11 07:55:54
2018-08-13 12:50:41
Front Porch Church