Each month, we post a series of blogs around a common topic. This month, Sarang Kang and Lynn Turnage are curating a blog series on faith formation. We'll hear from various people who are involved in faith formation personally, professionally, and perseveringly. How has your faith been formed? How has your faith formed you? We invite you to join the conversation on Facebook and Twitter!
by Boni Kim
Growing up in America, the only place I saw people that looked like me was at church. My parents were Christian and so I just followed them to church every Sunday. We started off at a smaller Korean church and later moved to one of the larger Korean churches in the area.
It wasn't until eighth grade I accepted Jesus as my Lord and Savior. That was when I really started to explore what the church was. I had always liked helping out and volunteering for church and I discovered that I had been serving and being spiritually formed by my experiences even before I accepted Jesus into my heart.
During my college years, I went to an American church when I was at school and when I was home during the summers, I attended my home church. There was such a huge difference between the two churches that essentially did the same thing: worship God. When I attended church at school, I felt like I was learning so much and that I was getting something from the sermons every week. At home, I didn't get the same kind of learning that I was getting at school. Nevertheless, after I graduated from college, I moved back home and started serving my home church.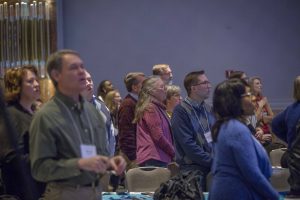 Serving was my M.O. for most of my twenties. I believed that the only way I could grow spiritually was if I served. So, I served my heart out. I served as director for my church youth group for seven years along with serving and leading two summer camps for over ten years. During these years, I felt very tired and alone. There was only one person that was going through what I was going through, my best friend, and she was really the only person that I was able to talk to about my problems. Since she and I were pretty much in the same place in our respective churches, we just listened to each other and tried to encourage one another. In the end, I made myself believe that serving was the only way that I would learn more about myself, grow spiritually, and get closer to God.
Then, I burned out. I felt myself getting angry at the thought of stepping into church. Fuming when I had to sit through another meeting. I didn't enjoy going to church. So, I stepped down from everything. I knew I needed rest.
During this time of rest, I learned that it was okay not to be in a leadership position in everything I was involved in. I learned to step back and be a participant and not volunteer. I learned to be more of a Mary rather than a Martha. (In my mind, I wanted to be perfect blend between Mary and Martha.) It was different because people around me have always seen me in a leadership position and have always asked me for help or asked me questions about certain events or camps. It was liberating to say, "I don't know, I didn't plan anything for this event."
I also learned that it wasn't JUST about serving. I didn't just learn about God and my relationship with God only when I served. This time of rest was also apart of forming my spirituality. I learned that I could just sit and be a Mary and that was okay. It was definitely different and even uncomfortable at first. The more I was sitting back and not leading, the more I started noticing the small things with God. I never experienced just sitting back and enjoying God. This was a part of my spiritual journey that made me just sit and absorb God. Through just listening, God told me that I had done well in His eyes. All the serving that I did, was for Him and that He was delighted in me. When I realized that, I knew that servanthood was something that I couldn't stop. It was just a matter of how much and what I wanted to be involved with.
Even though I told people I was taking a rest from serving, the servant heart inside me didn't really let me stop for long. I was still involved with things here and there, so it's not that I stopped serving altogether. I just learned how to say "no." It took me a very long time to say no and to turn things down. It had to get to a burn out to say no. I learned how to balance and to know what my limit is.
I have by no means got my spiritual life figured out. I believe that's something that is going to be an ongoing thing. I know that I just need to be connected to God first and foremost. After that, it's really what God calls me to do to further the Kingdom. God is still working on me and I'm still discovering more about my relationship with our Father as well. In order for a relationship to grow, the relationship will always be going through some kind of transformation. That's how I know that my relationship with God is still ongoing.
Currently, I am a deacon at my church and a Sunday school teacher. For now, that's enough.
---

Boni Kim is an elementary school teacher at American Montessori Academy in Redford, Michigan. She has been a member of and served at the Korean Presbyterian Church of Metro Detroit (KPCMD) since childhood and is now a deacon at New Hope Church of Michigan, the English Ministry sister church of KPCMD. 
https://media.mywtenfold1.com/wp-content/uploads/sites/10/2017/06/29174355/featured-ng-worship-singing.jpg
200
398
Linda Kurtz
/wp-content/uploads/sites/10/2016/01/NEXT-Logo-FINAL-Horizontal_lato-1030x229.png
Linda Kurtz
2017-06-19 07:17:57
2017-06-28 19:24:40
From SERVING to Serving