Each month, we post a series of blogs around a common topic. This month, Jeff Bryan is curating a series reflecting on the 2018 National Gathering in late February. You'll hear from clergy, lay people, community leaders, and others reflect on their experiences of the National Gathering and what's stuck with them since. How does the "Desert in Bloom" look on the resurrection side of Easter? What are your own thoughts of your National Gathering experience, or on what these reflections spark for you? We invite you to join the conversation on Facebook and Twitter! 
by Jojo Gabuya
The NEXT Church National Gathering, themed "The Desert in Bloom: Living, Dying, and Rising in a Wilderness Church," was my first ever opportunity to meet, dine, and interact with 675 Presbyterian pastors, lay leaders, and students. I was one of the students who registered and got a scholarship to be able to participate in the event. Although I heard some disturbing news about the Maryland's current peace and order situation from a young man who I happened to sit with on the Metro train en route to the City Centre, it did not deter me from fully participating in the 3-day conference.
The superb venue, the warm hospitality, the healthy lunches, the out-of-the box worship services, and collegial atmosphere, made my first three days in Baltimore an unforgettable and worthwhile one.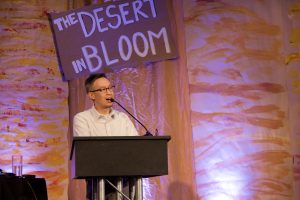 On the first day of the National Gathering, Rev. Billy Honor brought the house down with his humorous yet insightful sermon. The altar, covered with used Amazon boxes and filled with baskets of bread and dozens of juice-filled cups, rekindled my sense of the Holy and Sacred. In his keynote presentation, David Leong, who describes himself as an accidental academic, talked about Detroit as an urban desert. He posed this challenging question, "What if abandoned places of empire and other places associated with decay or neglect are actually fertile soil for renewal?" He shared the story of Vincent Chin, whose murder gave opportunity for Asian Americans to come together in Detroit. So, he stressed the importance of speaking about one's experience of racism. "Not to speak is to speak and not to act is to act". And, I was impressed with the story of Grace, a Chinese American who finished her PhD in 1940. He stressed that the desert in Detroit was about the lack of resources for the common good.
The heavy Vegan sandwiches for lunch were a welcome treat that got me through the first session of the workshop on "Creating and Planning Worship for Freedom." The succeeding two sessions gave me more ideas on crafting a worship service, grounded on people's struggle for freedom. And, I had the honor of being the only MDiv student/seminarian and UCC member among ten other workshop participants, who are Presbyterian pastors and lay leaders of their own Presbyteries around this country.
---

Jojo V. Gabuya is a Master of Divinity student at Pacific School of Religion in Berkeley, CA. They are an international student, who identifies as an Asian non-binary transgender person. They are also a Member in Discernment for Ordained Ministry in the United Church of Christ. And, they are currently serving as Minister in Training at El Cerrito, where they have been trying to dance the Word of God, instead of reading it.
https://media.mywtenfold1.com/wp-content/uploads/sites/10/2018/04/29173642/featured-david-leong.jpg
200
398
Linda Kurtz
/wp-content/uploads/sites/10/2016/01/NEXT-Logo-FINAL-Horizontal_lato-1030x229.png
Linda Kurtz
2018-05-10 05:23:55
2018-04-13 11:00:34
A First National Gathering