This month, strategy team member MaryAnn McKibben Dana is curating a series of posts on our most recent National Gathering. Now that we've been back in the trenches of ministry for a while, what ideas have really "stuck"? What keeps nagging at us, whether in a positive or challenging way? How has our view of or approach to ministry been impacted by what we experienced? What continues to be a struggle? We invite you to join the conversation on Facebook and Twitter!
by Dwight Christenbury
I long ago got bored with the idea of trying to get anything practical out of attending a conference. Life's too short, and anyhow it becomes a can't-see-the-forest-for-the-trees sort of thing. You spend all your time stalking the perfect tree so you can chop it down and drag it home and make good practical use of it, but in the course of the chopping and dragging what you mainly end up doing is making a lot of unnatural noise, trampling the undergrowth, scaring away the animals, and choking the fish with soil runoff.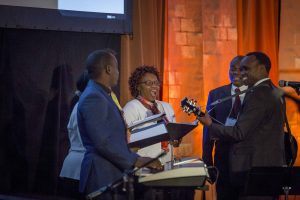 So these days I go to conferences looking mainly for inspiration, which is a lot more fun and has turned out to be thoroughly worthwhile. In the case of NEXT Church National Gatherings, I've found inspiration not only in the usual places — worship services and plenaries and workshops — but in the conversations and in the solitary wanderings through a strange city and even in that most-Presbyterian of places: the hotel bar. In all of these regards, the recent National Gathering in Kansas City lived up to the standard set by its predecessors.
So where did I find inspiration? In the verbal and visual interpretation of John 4 by women from National Capital Presbytery, who brought the Samaritan woman to life in both bold and subtle new ways, and in Alonzo Johnson's fierce truth telling and his reminder that we're called not to hold Living Water in our canteens but to be that water, seeping relentlessly into dry and parched places.
In Nancy Arbuthnot and Gerry Hendershot's "Verse and Vision" workshop, which, along with the nice people seated at my table, managed to turn a godawful grey meeting room in the bowels of the Marriott into my childhood back yard on a summer evening, just at the tail-end of dusk, as we reflected on Jesus's words in Luke 8:17.
In a strange, wordy (but in a good way) late-afternoon worship service in which we were all jolted out of our drowsiness by the Neema Community Church Choir and a dawning, in-your-face realization that we're full of shit if we go around thinking that us has nothing in common with them.
In Soong-Chan Rah's tasty culinary creation — the Great American Gumbo (or was it jambalaya?) — and in Rodger Nishioka's infuriating ability to put creative words and pictures to ideas that I might have had once but then forgotten (and all the while making us church people realize how thoroughly wasted are our Sunday school hours).
In the lovely sanctuary of Grace & Holy Trinity Cathedral (in whose rafters the strains of "I Love to Tell the Story" had probably never previously echoed), where Jenny McDevitt brilliantly used Joy Harjo's poem "Perhaps the World Ends Here" as an Invitation to the Table, and where, if Te Deum had kept singing, I would still be sitting.
And of course in the restaurants (man, those Kansas City-ans do love their beef) and bars (a really good Old Fashioned at the Cleaver & Cork, which was made even more tasty by the fact that Fourth Presbyterian Church picked up the tab) and hotel lobbies and hallways where the inspiration was in conversation with old friends and new friends. And by conversation I don't mean small talk but real, challenging, insightful, deep talk — the kind of talk that makes you realize what you've been missing (even if you're an introvert who actually has met a stranger).
So no, I have no intention of going back to the days when I attended conferences seeking practical tips, tools, and strategies that I could drag home and put to work (even if, as it turns out, I end up with a handful of them anyway). Inspiration is much more, well, inspiring — and I'm grateful to those who work hard and long to put NEXT Church National Gatherings together, because their efforts have consistently paid off.
But lest anyone think that I'm either insufficiently critical or on the NEXT Church payroll, let me be fair and balanced in my reflections on the 2017 National Gathering: my hotel room had a really lousy view.
---

Dwight Christenbury graduated from Union Presbyterian Seminary in 2005 with dual M.Div./MACE degrees. He now serves as Associate Pastor of the Trinity Presbyterian Church of Hendersonville, North Carolina, where he's been for a really long time. He lives in nearby Black Mountain with his wife, Carol Steele, and their children, Olin and Dean, and he may or may not be working on a book.
https://media.mywtenfold1.com/wp-content/uploads/sites/10/2017/05/29174409/featured-neema.jpg
200
398
Linda Kurtz
/wp-content/uploads/sites/10/2016/01/NEXT-Logo-FINAL-Horizontal_lato-1030x229.png
Linda Kurtz
2017-05-29 11:29:30
2017-06-28 19:29:49
Finding Inspiration