Each month, we post a series of blogs around a common topic. This month, Layton Williams is curating a series we're calling "Ministry Out of the Box," which features stories of ministers serving God in unexpected, diverse ways. What can ordained ministry look like outside of the parish? How might we understand God calling us outside of the traditional ministry 'box'? We invite you to join the conversation on Facebook and Twitter!
by Laura Brekke
My full title is Director of Religious Diversity.
It's an interesting title as it doesn't explicitly name me as a minister.
My job itself operates into two spheres – on the one hand, I am the campus minister for our Protestant Christian students. I have a Christian diversity intern, and lead a weekly Bible study. I advise three Protestant groups, I offer special Protestant worship opportunities. On the other hand, I am also chaplain to all religious and spiritual communities beyond the Christian umbrella. I am the chaplain for Jews, Muslims, Buddhists, those who identify as spiritual but not religious, and so on. I lead bi-weekly interfaith dinner discussions that offer opportunities to engage in conversations from race and religion to religion and pop culture with peers from different religious and spiritual traditions. I support diverse holy day celebrations, advise the Office of Diversity and Inclusion on topics specific to religious diversity.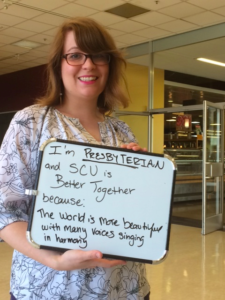 My parish extends to more than five thousand students; Catholic, Protestant and of many religious traditions. My preaching is less often behind a pulpit and more often in the form of a lecture. I lead groups through workshops on intersectional identity engagement and recognizing religious bias. And with one of my professor colleagues, I co-lead the Inter-Belief Floor – a floor in one of our residence halls focused on interfaith engagement. Not exactly skills on the average seminary checklist.
I served a traditional church before I became a campus minister. I loved my year as stated supply to a tiny church in rural Alabama, but my heart has been for college students. I grew up in a non-religious family. My faith in Jesus came to fruition in college – because of a patient and welcoming campus minister, Rev. Dr. Diane Mowrey at Queens University in Charlotte, NC. I was given space to ask questions and grow in fits and starts on my faith journey. I take those memories of encouragement into my ministry at Santa Clara University.
My biggest challenge is ministering to students of other religious traditions. We don't have a campus rabbi, imam, or holy leader from non-Christian traditions. And yet for me, being a chaplain outside of my comfort zone has rooted me deeper in the grace and compassion of Jesus Christ. How do we preach the gospel always, yet use words only when necessary? How do we show the love of God to someone who has rejected religion? Where do we encourage questions as young people grow into their identities beyond the safe embrace of their family? These weren't the questions I was taught to answer in seminary – but these are the questions which have given my ministry meaning and great joy.
Now, in the wake of executive orders which seek to ban my students and colleagues from residence in my country, these questions of compassion, of reaching beyond the tradition that roots me, are even more important. When people say Jesus wasn't a refugee and refuse to imagine an entire religious group as a complex collection of real humans with real hopes and fears, I find my job as the director of religious diversity even more important. Diversity often means division, but it doesn't have to. Diversity can mean unity without uniformity.
My greatest joy as a university chaplain is that I am surrounded by people who make me think hard on what and why my faith matters. They aren't shy in their questions about Jesus and his miracles, or how I read and interpret scripture. I miss preaching weekly, but I get the joy of leading a Bible study with seven college students who are excited to be there each week. I don't get to preside at communion regularly, but I do get to help plan the annual Passover seder with the Jewish Student Union – and learn a lot in the process. I don't get to take part in youth service trips, but I do get to see my evangelical student group organize and run a weekly worship night with more skill than some new pastors!
Ministry beyond the church walls is challenging – it's full of unforeseen pitfalls, and unexpected graces. There's endless paperwork and program assessment, to be sure. But there are colleagues who ask tough questions. There are students who bring their whole selves to their worship. And there is the wonder of the way God is working through each crack and cranny of the human heart.
---

Laura Brekke is an ordained minister in the Presbyterian Church (USA) currently serving as a Campus Minister and Director of Religious Diversity at Santa Clara University, a Jesuit Catholic university in California. Her research and programmatic work are focused on interfaith dialogue and intersectional identity. She studied history and creative writing at Queens University of Charlotte, and earned her Masters of Divinity form Emory University. When she's not hurrying across campus, she is an avid reader, writer, and book reviewer.
https://media.myworshiptimes31.com/wp-content/uploads/sites/55/2017/02/29174713/featured-brekke-sign.jpg
200
398
Linda Kurtz
/wp-content/uploads/sites/55/2016/01/NEXT-Logo-FINAL-Horizontal_lato-1030x229.png
Linda Kurtz
2017-02-08 09:14:13
2017-02-12 18:15:59
Finding My Call on Campus, Finding My Faith in Interfaith